History of Porter County, 1876
A brief history written by A. G. Hardesty . . . .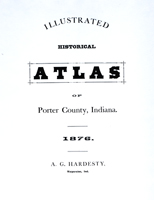 This following history of Porter County, Indiana, was published in 1876 by A. G. Hardesty. Although errors are likely contained in this history, it does provide a rather detailed history of Porter County's early years.

Source Citation:
Hardesty, A. G. 1876. Illustrated Historical Atlas of Porter County, Indiana. Valparaiso, Indiana: A. G. Hardesty. 90 p.
HISTORY OF PORTER COUNTY, INDIANA
CHAPTER I.
HISTORY repeats itself. Nations rise and fall, races of people start from apparently insignificant sources, become rich and powerful, sway the sceptre of power over other races, and when they have reached the acme of civilization they begin to retrograde, and eventually succumb to other races, and are known no more for ever.

That this Western continent was once inhabited by a prehistoric people, there can be no question of doubt; but as to the time, and how, and when they disappeared, are questions for the antiquarian only. Are the present tribes of Indians their descendants? Were they the people, the ruins of whose cities and homes cover the desert places of Colorado? Were they the progenitors of the Aztecs? or did they dwindle into the pigmies of Tennessee and eventually become extinct? Though they left no monuments of sculpture, painting, or poesy, yet every farmer in this county has at different times plowed up from the earth pages of their history in the shape of the flint arrow-head and stone tomakawk. And all over the length and breadth of this land are found mounds of earth that only need to be exhumed to speak of other races and other times.

Moses Brooks, our Cincinnati poet, wrote this:

An Apostrophe to a Mound.
Here stood a mound, erected by a race
Unknown in history or poet's song,
Swept from the earth, nor even left a trace
Where the broad ruin rolled its tide along.
No hidden chronicle these piles among,
Or hieroglyphic monument survives
To tell their being's date or whence they sprung,
Whether from gothic Europe's "northern hives,"
Or that devoted land where the devoted siroc drives.

Mysterious pile! O say for what designed?
Have flaming altars on thy summit shone?
Have victims bled, by pious rites consigned,
T' appease the wrath of heaven, and thus atone
For sinful man to the eternal throne?
Momentous monitor of mortal woe!
Thou dost proclaim a nation lost, unknown,
Smitten from earth by some tremendous blow,
Which but a God could give, and but the Omniscient know.

Hill of the Lord! where once perchance of yore,
Sincere devotion woke her pious strain;
Mountain of God! did prostrate man adore,
And sing hosannas to Jehovah's name,
While sacrifices fed thine altar's flame?
But when stern war his sanguine banners spread,
And strewed the earth with many a warrior slain,
Didst thou become the charnal of the dead,
Who sought imperial sway of for fair Freedom bled?

Yes; here may some intrepid chieftan lie,
Some Alexander, great as Philip's son,
Whose daring prowess bade the Persians fly
Before the conquering arm of Macedon;
Or, greater still, some former Washington,
Whom glory warned and liberty inspired!
Who for this hemisphere perchance had won
His country's freedom, and, deplored, expired,
Bathed by a nation's tears, beloved, revered, admired.

Here another race once lived and died; here, along these shores, the council fires blazed and the war-hoop echoed among their native hills. They once had cities, but where are they? They are swept from the face of the earth. They had their temple of the sun, but the sanctuary is broken down, and the beams of the deified luminary extinguished. It is true they worshiped the Great-Spirit, and the genius of storms and darkness; the sacred pages of revelation had never been unrolled to them. The gospel of the Savior had never sounded in their ears; they heard the voice of their God in the morning breeze; they saw him in the dark cloud that arose in wrath from the west; they acknowledged his universal benificence in the setting sun as he sank to rest in his burning bed.

Here the dark browed Indian once bathed his manly limbs in the river, and his light canoe was seen to glide over his own loved lakes. Centuries passed away, and they still roved the undisputed masters of the west. But at length a pilgrim bark, deep freighted from the east, came darkening on their shores; they yielded not their empire tamely, but they could not stand against the sons of light; they fled. With slow and solitary steps they took up their mournful march to the west, and yielded with a broken heart, their native hills to another race.
Porter County.
A N. N. West county, of the State of Indiana, was once a home and hunting ground for the Pottawattomie tribe of Indians. All the old settlers of this county can tell many anecdotes concerning them. The children of the two races were often playmates and inseparable companions, and thereby forming some very warm attachments. Some of our citizens who came to this county early, learned their language -- if linguists will allow us to call it language. -- Mr. James Shinnabarger, of Union township, speaks the Indian tongue fluently, also Mr. William Unruh, of Morgan township, as well as some of the Morgan family of West Chester township, notably Mr. Joseph Morgan, who has kindly furnished us with a sketch of his recollections of the early history of this county, wherein he uses the Indian language with its interpretation. He says that between the Che-mo-ko-mon (the big kings), and the Nish-naw-heg (the Indians), the utmost harmony prevailed; for, with proper care and fair dealings, the most of the Indians were, in their way, good neighbors. In 1680, Robert de Lasalle crossed the territory that now forms Porter county, Indiana, and from that time on many fur traders and trappers crossed our territory.

In 1804, Fort Dearborn was located at what is now known as Chicago (the last remove). It was used as a trading post by the Pottawattomies, as they raised large fields of corn near their villages in the Desplaines and Fox River Valleys as well as for the furs so bountifully supplied them by the fur bearing animals of the Calumet and Kankakee rivers. The Fort Dearborn massacre took place in 1812, but four years afterward the Fort was restored, when trade was resumed between that place and Detroit. -- By a treaty made between the United States and the Indians, there was ceded to the Government a strip of land ten miles wide across the northern boundary of Indiana; this was the first land acquired from the Pottawattomies by the whites in what is now Porter county; the rest of the Indian lands were acquired in 1832. Illinois was admitted into the Union in 1818, but the State of Michigan was declared an independent territory 15 years earlier, or in 1803. Gen. W. Hull was appointed her Governor, and about his first act was to claim this ten mile boundary line, or the land lying between it and the lake. Of course Indiana couldn't see it in that light, and the Government, in order to keep peace in the family, gave to Michigan what is now known as the Northern Peninsula.

1822. In this year begins the actual history of Porter county, Indiana. For Joseph Bailey (or Baies), came by the way of Detroit to this county and settled in this year (1822), at what is known as Baileytown, in West Chester township. He was a French fur trader and trapper, and had an Indian wife. He·kept a store for Indian trade expressly. Jacob Hurlburt, now of Lake county, lived with him during 1835. He raised a family of four daughters, noted for their beauty and intelligence, the oldest of whom, Eleanor by name, afterward took the veil, and was for a number of years Mother Superior of St. Mary's school in Terre Haute. The second married Colonel Whistler, who at one time was one of our county Commissioners. The third one married a Mr. Howe, a Chicago banker, and whose death left her a widow in affluent circumstances. Mrs. Howe has just returned with her two daughters from Europe where they had been to complete their education. Mr. Bailey's youngest daughter, Hortense, married Joel Wicker of this county, who was the first one to expose goods for sale in Deep River, in a building that was owned and just completed by John Wood, Sen. Of the original Bailey family the three oldest daughters are all that are now living. They were and are devout Catholics and consistent in their religion. Mr. Bailey was monarch of all he surveyed up to

1831, when there was a mail line established from Ft. Dearborn to Detroit, called the Detroit and Chicago road. It ran through the territory that now comprises Jackson, West Chester, and Portage townships. The mail was carried in knapsacks on the backs of two soldiers detailed for that purpose. In

1833 stage coaches ran over this line three times a week. The first contractors were Converse & Reeves. The Porter county Stage House was kept by Jesse Morgan. Truly what a contrast is presented between the mail facilities of that date and this of 1876. Now we have five railroads that causes mail to be transported across our county with the speed of the winds as it were. [I have often thought that when the Prophet stood by the river Chebar, and saw visions of the coming steam cars -- see: Ezekiel 1 chapter, 1 to 28 -- that he was blessed above all men].

The soldiers who participated in the Black Hawk War of 1832, marched over this stage route. In 1828 Jesse, Isaac, and William Morgan, three brothers, left their native home in Monongehala county, Virginia, for Wayne county, Ohio, from where they moved into Laporte county, Indiana, where they were appointed to fill responsible positions in that county that had sprung into existence but a short time previous. But they were not yet satisfied with their location, and, in 1833, with their large families and worldly effects, they come by the way of the Old Soc trail into this county in 1833. Isaac and William Morgan settled on the beautiful prairie that now bears their name. Jesse Morgan settled in what is now West Chester township, on section 6, on the Detroit and Chicago road heretofore spoken of. About the same time Henry S. Adams, of Jefferson county, Ohio, came direct to LaGrange county Indiana, and from there to While Pigeon, Michigan, in 1829, and from there to Laporte county, Indiana, which place he reached in 1831; and on the 27th day of April, 1833, with his mother, his wife and three daughters, came to Porter county and camped on section 9 of what is now Morgan township, and in the month of May erected a cabin and made a claim on 160 acres of land. It is now owned by John Baum. Mr. Adams broke 20 acres of this farm that same spring, 12 acres of which he put into corn and the rest he sowed to wheat. In the year following he laid claim to the N. E. qr. of section 18, of the same township, and has resided there until the present time. Mr. Adams' cabin has been replaced by one of the most substantial brick houses in the county. He is one of our best citizens, an obliging neighbor and a christian man. He has raised a family of twelve children, nine of whom are still living; three of them only are sons. Seven of his children reside in Porter county. Mr. Adams' brother-in-law, Jacob Fleming, reached this county in the same year that he did, also the Colemans and Reason Bell, sen., a native of Virginia, who had been living for some time in Ohio, came into this county in this year, and perhaps a few others. They were made of the true .pioneer metal, and who heeded not the injunction "Woodman, Spare that Tree," but soon felled enough timber to erect themselves cabin homes that have since been replaced by the finest mansions in the county. They caused the wilderness and solitary place to be glad, and the desert to blossom as the rose.

In the fall of 1833, Alexis Pravonzy started an Indian trading post close to where Chesterton now stands. The Good Templars will say that the intentions of Mr. P. were not honorable, since he managed to dispose of eleven barrels, of "that stuff men put into their mouths to steal away their brains." Eleven barrels of tanglefoot in one winter? Truly says the old proverb,

When the whisky is in the man
The brains are in the can.

But while Pravonzy was getting rid of his eleven barrels of whisky to his copper colored customers, he managed the affair so diplomatically, that only one of them lost his life through its effects. He came to his death by being stabbed with a cheese knife once or twice too often. [The spirit of this "Brave" was sent to the happy hunting grounds of his Father's, unwept and unsung (sic transit Gloria mundi)]. It is a singular coincidence that, while we write, a friend reads to us of the coroner's inquest over the remains of Charles Peterson, in West Chester township, who "came to his death by becoming intoxicated, lying down and freezing to death," on the 18th day of December, 1875. The moral is this: that a man may take spirits down to keep his spirits up once or twice too often.

Ruel Starr came into Porter county in 1833, who remained in the county the rest of his natural life, and died in Valparaiso during the year 1875. At the time of his death he was the wealthiest man in the county. Although his wife is executrix, yet his vast estates are managed by the husband of his only remaining child, Capt. James McGill. Mr. Starr assisted in building the largest business block in the city of Valparaiso, known as the "Starr and Anthony Block." Mr. Starr's eventful life would form a history at once entertaining and instructive, but we cannot speak even the names of all the men who have come into the county and made for themselves an heritage that will stand while records of earthly things shall last.

The men who came into Porter county in 1833 had to endure the necessary hardships accompanying the first settlements of a new country. But when they reached here, --

"The wanderers eye could scarcely view
The summer heaven's delicious blue.
So wondrous wild the whole might seem,
The scenery of a fairy dream."
CHAPTER II.
1834. In the year 1834, there were many arrivals in this county. Among others who came in this year was William Thomas, a ,son-in-law of Jesse Morgan, and a man of marked ability, who, at his death, left a fortune to be enjoyed by his family. His son and heir, E. N. Thomas, is of the firm of Bondy & Thomas, Valparaiso.

Mr. William Gossett came here in this year also, and settled at what is now called Salt Cree Post-office, and two years later built the first grist mill in the county. In March of this year, A. K. Paine built the first house in what is now Jackson township. Hon. Jesse Johnson came into this county in this year, and at once realizing the necessities of the young county, made himself on of its most useful citizens. He was the first probate judge, and filled many other offices that were at that time more arduous than renumerative. He is a brother of Russel Johnson, of Morgan township, and the father of William Johnson, one of our attorneys, and so well known as to require no eulogy from our hands. Hon. Jesse Johnson enjoys a hearty old age in his farm home, east of Valparaiso, in Center township. Hon. T. Crumpacker, who now represents out county in the legislative halls, came from Virginia to this county in this year; also Mr. A. Stoner, of Washington township, and William Frame, from Kentucky, came here in this year, and now reside in Porter township. The Hurlburt brothers came in this year, and David yet resides in Boone township. Jacob lived in this county up to the year 1851. Mr. Hurlburt says that when he reached Twenty-mile prairie he found it only a lake, with now and then an island standing out of the water, like an oasis out in the desert; and at this date the land was so law and watery that the early settlers of the county considered it entirely useless. But now it forms one of the best farming districts in the West. The Hurlburts were preceded but a few days by Jacob Wolf, the father of John Wolf, recently deceased (1875), in Porter township, where he resided as one of its wealthiest men. He was also the father of Josephus Wolf, or Portage township, one of the wealthiest men in Porter county, who has just completed the finest dwelling house in the county, situated on his little farm of 3,300 acres.

The Bartholomew brothers, fathers of the present generation of that name now living in this county, came this year also. Jerry Bartholomew, father of our commissioner, and of Stephen, who served in 18—as Sheriff of the county. His brother, Joseph, the father of "Dave," as he is familiarly known, and the father-in-law of Colonel Gil. Pierce, yet lives in Tassinong.

On the 11th day of January, 1834, the
First White Child
was born in Porter county, the son of Reason and Sarah Bell, who were then living on sec. 15 of Washington township. He was named for his father. Mr. Bell, sen., was one of our early Commissioners, which position he filled with usefulness to the young county and with credit to himself. He often served as Road Supervisor and Viewer; many times a Juror, and was township Trustee for a number of years. His career of usefulness only ended with his death. His business qualifications were undoubtedly transmitted to his son and namesake, who, early in his juvenile days, went to live with Sylvester W. Smith, of this county, a man amply qualified to instruct his protégé, and one who has figured prominently in the history of this county as an incumbent of its offices at different times; and, as an evidence of the value of that instruction, we have seen Reason Bell, jun., honored with some of the best offices in the county, which he has filled with satisfaction to a majority of its constituents. Mr. Bell, jun., was married to Miss Adelia White, daughter of Theron White, who now resides in the city of Valparaiso. He lost his right limb by its being crushed between the wheels of the horse-power of a threshing machine while he waseighteen years of age. The same horse-power is now owned by Mr. W. J. Barnes, of Washington township. Within a month from Mr. Bell's birth there was a tea-party at the residence of Mr. Jacob Flemming, of the same township, to welcome the advent of another stranger to Porter county. The new-comer was christened John, for a grandfather. .John now lives in Union township, and the reader has only to form his acquaintance in order to know a first-class gentleman, a hale fellow well met, and one noted for his hospitality. The latch-string always hangs out at John's. His brothers live in Washington township, and Henry S. Adams and John Shults, of Morgan township, are his uncles. He was married to Miss Joanna Maxwell, of Horse Prairie, in 1856. In this same year, 1834, on the 11th day of February, the first white female child was born in this county. Her parents, Jesse and Joanna Morgan, named her Hannah. She was married to Bently D. Hassell, a general passenger agent for some of the southern railroads. He resides in New York city, and his wife, Hannah, is now deceased. It was in 1834 that the first United States surveys were made of the lands lying south of the Indian boundary line. The lands were laid off into sections by Polk and Burnside, and all settlers up to this date were only squatters, as it were, but claimed the land by pre-emption. In this year the first town was laid out. It was located two miles east of where the city of Chesterton now stands, by John J. Foster, et al.; but the embryo town, for want of proper nourishment, soon passed out of existence, or, as the Irishman has it, in the songs of Killarney:

"He smiled a kinder sickly smile and curled upon the floor,
And the subsequent proceedings interested him no more."

Bailey town was also laid out about this time, and although it yet survives the wrecks and ruins and revolutions of time, it yet lacks about three thousand souls of being able to corporate as a city. Of the early settlers spoken of in this chapter, "who have gone to that bourne from whence no traveler e'er returns," we can truly say, that nearly all of them left ample fortunes and honored names for the use of their children of to-day.
CHAPTER III.
1835. The year 1835 finds emigration fast flowing into our county, and all was yet, as Mr. Morgan quaintly puts it, "without law or gospel," yet peace and harmony universally prevailed. "No law, no transgression," is the old maxim, but our county forefathers had neither at this time. Among the many arrivals of this year was Mr. G. W. Patton, of Ohio, who came into Morgan township, also the Baum brothers, formerly of Crawford county Pa., but from Carroll county, Ohio, direct to this county. This same year brought Mr. S. P. Robbins, from Massachusetts – he is familiarly called "Putt" – he is one of our wealthiest men and one of our County Commissioners. Mr. Robbins settled on section 20 of Portage township, where he now resides surrounded by his family, most of whom are married and are men of more than ordinary financial ability. This year brought Mr. Allen P. James and Peter Ritter, of New York State, also Mr. E. P. Cole of the same State, but came from Ohio in the previous year, prospecting, and so well pleased was he with the country that he at once made arrangements to move his family here, which he did with ox teams and settled on section 19, of Liberty township. The Indians were encamped at that time on his section, and were as he says, very friendly, frequently bestowing presents on the juvenile members of his family. David Hughart came into this county in this year from Western Virginia; he soon became one of the leading business men of the county and now lives retired in the city of Valparaiso. This same year also brought Hazard Sheffield, of Rhode Island, who now lives in Porter township. Mr. Nelson Barnes came into this county in this year as also did Mr. Salzer, whose son, Don A., is one of the leading dry goods merchant of Valparaiso, as is also his son Winfield, one of the leading grocers of the same place. This was the year of the great land sale at LaPorte City, and was attended by nearly every voter of this county. In the fall of this year a Mr. Agnew, a relative of the Bryants of this county, and a brother-in-law to David Bryant of Pleasant Grove, Lake county, to which place he had sent his family, and was following the next day with an ox wagon loaded with his household goods, but, encountering one of those fierce and intensely cold storms, that like the simoon, comes on unawares, Mr. Agnew lost his way, and although but little snow fell, it soon covered the Indian trail which he was following, and when but a short distance from Mr. Bryant's home, he became hopelessly bewildered, and after unloosing his team and traveling a short distance he found a stake driven into the ground, around which he travelled many times that last night of his earthly life, and close to which his frozen body was found the next day and taken back to Morgan Prairie and there the
First Burial
of a white man that ever took place in this county, of which we have any authentic record, was the depositing of Mr. Agnew's remains in their last resting place.
CHAPTER IV.
1836. The year 1836 forms an interesting epoch in our county history, for it witnessed the birth of Porter county. In January of this year our legislature deemed it expedient to separate from LaPorte county all the lands lying north of the Kankakee river and west of range 4, 43 west, and called the new county Porter, in honor of Commodore David Porter, of the United States navy, who commanded the frigate "Essex" in the war of 1812-14 with Great Britain. The Governor appointed Benjamin Slaytor Sheriff, with power to organize the county, for which he received the sum of $60 from the first board of county commissioners.

Porter county, Indiana, was then, as now,
Bounded,
on the north by Lake Michigan (Che-ge-minkan -- Indian name for "big water") on the east by LaPorte county (LaPorte is the Indian name for "the door"), and on the south by the Kankakee river (Ti-ah-ke-kink -- Indian name for "terrible land"), and on the west by Lake county (named for Lake Michigan). Its
Area
is 410 square miles. Each square mile makes what is termed a section, and each section contains 640 acres of land. Consequently Porter county contains 262,400 acres of land. The sides of the county are parallel, and in length the county includes a part of the width of town 32, north, and towns 33, 34, 35,36 and parts of 37 and 38, north. The east side of the county is 38 and the west side 32 miles in length; while, commencing on the east side, the county contains ranges 5 and 6 entire, and part half of range 7 on the west; making Porter county just 15 miles in width. It is about the same in area as Saxe Altenburg, which contains the remarkable number of 141,426 inhabitants. It is nearly twice as large as ancient Attica that division of Grece that was once one of the most remarkable portions of the earth, as it contained 300,000 souls.

Although the territory forming Porter and Lake counties was set off from LaPorte county in 1836 in one body, yet it was generally understood that Porter county would be again divided, for our first commissioners speak in their records of "attached territory known as Lake county;" yet they divided Lake county into townships, caused an election to be held there, and exercised a fatherly interest generally. In this year, J. G. Forbes, a then resident of Hoosiers' Nest, circulated a petition among the voters of both counties asking the legislature to divide the territory through the centre of range 7, which was accepted at Indianapolis, and Lake county was declared an independent county in the following year.

1836. Our first Board of Commissioners, consisting of John Seffon, Benjamin N. Spencer and Noah Fowts, convened at the house of C. A. Ballard, in Porterville -- now Valparaiso -- on the 12th day of April, 1836, with George W. Turner Clerk, and Benjamin Saylor, Sheriff. They used Mr. Ballard's house that session of five days, for which they voted him the sum of two ($2.00) dollars and fifty (50) cents. These first commissioners were, in one sense, the fathers of our county, for it was their duty to bring order out of chaos, as it were; to man the ship of state and start her on her voyage down the sea of time, freighted with the first legal enactments, and all their good will. We all know the benefit of having a good start in any undertaking. "Work well done is twice done," says the old adage; and the reader has only to note the general prosperity that has fallen to the lot of this county since its inception for a confirmation of its truth. The first act of these Commissioners was to divide the county into ten civil Townships, which, from time to time, have been subdivided into three more; making in all thirteen (13) Townships. The county was at that time in the 9th Judicial District, but is now in the 11th.

The civil Townships in Porter county are at present as follows:
Pleasant.
A name that suggested itself to the early inhabitants on account of its pleasant location, dates from 1836, or during the general division. It is the largest Township in the county.
Boone.
A Township that was named in honor of that intrepid hunter, Daniel Boone, and was set apart in 1836.
Porter.
This Township was set apart in 1837, when this county and Lake were divided. It was then named Fish Lake, after a lake within its borders, which at that time went by that name, but it is now known as Lake Eliza. However, the name of Fish Lake becoming obnoxious to its inhabitants, a petition was circulated, and the county Commissioners, during their June term, 1841, changed its name to Porter, after the county of which it forms a part.
Morgan.
Named from the prairie that runs across its borders. It dates from August, 1843, when it was set apart from Pleasant Township.
Essex.
As the County was named in honor of a commander, it was fitting of course to remember the ship he commanded; hence this Township's name. It dates from February, 1850. It contains but eighteen sections, and is, therefore, the smallest Township in the County.
Washington.
This Township was very appropriately named for the "Father of our country," Dates from the year 1836.
Center.
This Township derived its name from its geographical position. It dates from 1836. Section 24 (Town. 35, Range 6, W.) of this Township, on which the city of Valparaiso is located, is geographically speaking, the center of the County.
Union.
This Township dates from 1836, and was named to commemorate the Federal Union.
Portage.
This Township's name was suggested by a county of that name in Ohio. It dates from the general division of 1836.
Liberty.
This Township dates from 1836 also; and, like many other things, its name suggests its own meaning.
Jackson.
A Township that received its name in honor of an old settler -- Lemuel Jackson. Dates from 1836.
Pine.
This Township has had a rather checkered existence. In 1836 the Commissioners first named it "Lake," for the one that bounds it on the north. In their June session they changed it entirely by joining it to Waverly Township and calling them West Chester. Thus it lost its identity, till the March term, 1841, of the Commissioner's Court, when it reappeared under the euphonious title of Berry Township. But a remonstrance from the citizens, setting forth that they suffered grievously, etc., was handed to the Board at their next session, June term, 1841, when the Township of Berry was immolated, and remained a part of West Chester up to 1850, when it again appeared under its present name of Pine, for the tree of that name.
West Chester.
This Township, as stated above, was set apart as Waverly, Q. V., and became West Chester in the same year.

By order of this Board of County Commissioners, a local election was held for the first time in this County's history on Saturday, the 30th day of April, 1836, for the purpose of electing Justices of the Peace, etc. The election was ordered to be held, in Pleasant Township, in the house of Henry S. Adams, with William Billings as inspector of said election; in Boone Township, at the house of Jesse Johnson, with Asahel Neal as inspector; in Union Township, at the house of George W. Turner, with James Walton as inspector; in Center Township, at the house of C. A. Ballard, with G. Z. Salyer as inspector; in Washington Township, at the house of Isaac Morgan, with orders to act as inspector of said election himself. In Jackson Township the election was held in the house of A. K. Paine, with Samuel Olinger as inspector; in Lake (Pine) Township, at the house of Edward Harper, and, like Mr. Morgan in Washington Township, Mr. Harper acted as his own inspector; in Waverly (West Chester) Township, in the town of Waverly, with William Gosset as inspector; In Liberty Township, in the house of Daniel Y. Kesler, with Jerry Todhunter as inspector; in Portage Township, in the house of Jacob Wolf, with James Spurlock as inspector.

The reader will understand that this was what we may call a local election, for the Statutes of that time provided for a first general election in new counties, for the purpose of electing Commissioners, whose duty it was to perfect the organization of the County.

ACT. -- It shall be the duty of the Governor to issue a writ of election, directed to some person in each county, whom he shall appoint to act as Sheriff until the next general election, and until his successor is elected and qualified, requiring him to call an election, to be held at such place or places in said County as he may direct, on such day as may be designated in the writ of election, for the purpose of electing One Clerk of the Circuit Court, one county Auditor, one county Recorder, one county Treasurer, one Sheriff and three Commissioners.

This election was held in March, 1836.

This Board also ordered the following named gentlemen to act as jurors for the first term of the Circuit Court that was soon to convene:
GRAND JURORS.
William Thomas, Samuel Olinger, William Gosset, Joseph Wright, Samuel Haviland, James Walton, Asahel Neal, James Spurlock, John Bartholemew, Thomas Adams, Reason Bell, Peter Cline, Royal Benton, William Clark, William Tinkle, Robert Wilkinson, J. Todhunter and W. Snavely.
PETIT JURORS.
William Downing, Elijah C:lstcel, Asahel K. Paine, Jesse Morgan, Henry S. Adams, Lewis Comer, John Jones, Charles Allen, David Bryant, Solon Robinson, R. Frazier, Joseph Wiley, Richard Henthorne, William Brim, Theophilus Blake, Wilson Malone, Isaac Morgan, Warner Winslow, Adam S. Campbell, Jesse Johnston, William Frame, Abraham Stoner, James Ross and John McConnell.
County Revenue.
The Commissioners comprehending the fact that a "little of the root of all evil" was actually needed to run the machinery of state, Ordered that the sum of 75 cents tax be levied on polls, and the rate of two and one-half per centum, or the sum of two dollars and fifty cents on each one hundred ($100) dollars of all personal and landed property.

Benjamin Saylor was appointed county Collector of the revenue in 1836.

"The poor ye have always with you," remarked Our Saviour eighteen hundred years ago, and our first Commissioners, realizing the truthfulness of this remark even at this stage of our history, took steps to appoint overseers of the poor for each Township. They also appointed three School Trustees and one Treasurer to each Township, which offices continued in vogue up to 1859, when, by an act of the Legislature, there was but one Trustee allowed to each Township, with power to act as Inspector of Elections, Overseer of the Poor and Fence-viewer. The same act abolished the office of Township Treasurer and Clerk. The fence viewing business has since been dropped. Ruel Starr was County School Commissioner from 1836 to '37. In those days every man who wanted to sell whisky, vend foreign merchandise, or keep an inn, had to pay for the privilege by procuring a license from the County Commissioners. E. g. -- Francis Willey paid ten ($10) dollars to the Commissioners in June, 1836, for .which they allowed him to retail spirituous liquors in Bailey Town. The first dram shop was opened in Valparaiso by Abraham Hall in November, 1837; for the privilege of which Abraham paid the Commissioners ten ($10) dollars.

Now, the County contains one saloon in Kouts Station, two in Hebron, one in Boone Township, one in Chesterton, two in Hageman, one in Burdick and five in Valparaiso, the keepers of which pay to the county Commissioners the sum of $100 dollars each. The Commissioners met once a month for nearly every month the three first years of our County history. Among their act of June, 1836, they appointed W. L. Earl, Matthias Dawson and Judah Leaming, Commissioners to locate a site for a county seat. They chose Portersville as the proper place (now Valparaiso, Q. V). They also established a bounty for each wolf scalp of one dollar. Their successors, at different times, raised the scalp premium, and now it is fifteen dollars for each full grown scalp. The citizens of this County, at this date, were noted for their good conduct and industry. Indeed, in this decade, it was fashionable to wear jeans and drink out of a gourd; yet, notwithstanding all this, it was necessary to enact laws for the prevention of crime and to punish evil-doers. About the first, or rather the father of crime, is covetousness. William C. Malloy carried off his neighbor's halter that, unfortunately, had a horse attached to it; but he was apprehended in the unlawful act by Messrs Joseph Wiley and David Turner, for which the Board of Commissioners allowed them the sum of four dollars, and allowed Benjamin Saylor, Sheriff, five dollars and fifty cents for taking said William to La Porte jail. And, we might as well state here, that horse stealing, a few years after, became one of the greatest pests that our citizens had to endure, and, finally, they were compelled to organize a vigilance committee. Our sister county, Lake, suffered wonderfully also; and as a touch of nature makes the whole world kin, there was considerable sympathy manifested between the two counties.

The year 1836 witnessed many arrivals in the county, prominent among which was that of John Shults, whose life has been a lesson of what economy and strict integrity can accomplish. Mr. Shults worked by the day when he first came here, and now while in the decline of life, he finds himself one of the wealthiest men in the county, living on his farm of 1,400 acres in Morgan Township, surrounded by every luxury. His son, Augustus, is one of his nearest neighbors, and has a fine farm, on which is one of the best vineyards in the County.

Jacob Blake, the father of our well-known citizens, Frank and Perry Blake, removed from La Pone county into this one in 1836. This time marks also the arrival of Ora B. French, a leading citizen of Porter Township, and Thomas J. Field, Esq., who settled in Portage Township and soon became a leading member of society and of the Presbyterian church. His oldest son, Frank, lives in Union Township, and his son, Hon. Elisha Field, is one of the leading attorneys of Lake County, and has been sent from there to our Legislature.

Mr. Thomas Field, after a useful and prosperous life, died at the home of his daughter, Mrs. Harmon, of Portage Township, in 1875.

Dr. Miller Blachly, the first coroner of Porter County, came here in this year also. He moved from Essex County, N. J., his native place, where he was at the age of 21 married to Sarah Van Sickle, by whom he had eight children; and during her lifetime he moved to Washington County, Pa., where he suffered the bereavement of her death. He removed from there to Wayne County, Ohio, having previously married Elizabeth Bartholemew, by whom he had eleven children, making in all a family of nineteen children, eighteen of whom reached man's estate and were married. Of this family of children eight were sons, thus verifying that beautiful passage of scripture, "A house full of sons is like Lebanon with its cedars, but daughters by the fireside, are like roses in Sharon."

In 1836, he came with the principal part of his family into Porter County. At his last family reunion there were seventy-seven of his children and grand children congregated around his fireside. He was then living on section 20 of Union Township, on the site of the residence of Charles Granger; where he died, and the remains of himself and wife lie buried in the cemetery opposite Mr. Granger's house, on the banks of a creek that is tributary to Salt Creek. The Blachlys of Tassinong are also his descendants, and his son, Boyd, who yet has the musket of his father carried in the revolutionary war, lives in Union Township. His son, Cornelius, M. D., lives on Salt Creek, where he owns a grist-mill and saw-mill. His grist-mill is the oldest one in the County, as it was built in 1836 by William Gossett. Before Mr. Gossett completed his saw mill, there was one erected on Coffee Creek, in this county, by Elijah Casteel, Justice of the Peace, and William Calhoun, the latter of whom went afterwards to Missouri. During the rebellion, the bushwhackers, hating Mr. Calhoun for his loyalty, called him out of his house and riddled him with bullets. In 1840, their property was owned by Eli Lansing, who added to it a grist mill and rode all the way to Washington on horse-back to get his water wheel patented. This property has since passed into the hands of G. B. Smith & Son, and is now known as Forest Mill. Mr. Smith, sen., is Trustee of Jackson Township.

About the same time Brown & Morgan started a saw mill further down the stream. In this year Mr. Arnold settled on Morgan Prairie. The Indians were camped within sight of his house for some time after his advent.

In March of this year the first marriage ceremony that ever took place in the county was solemnized by Elijah Casteel, a Justice of the Peace, who had been elected when this County was a part of La Porte. The contracting parties were Mr. Jacob Hurlburt and Miss Susan Sheffield, sister of Hazard Sheffield, who with his mother went to La Porte to procure the license.

"Till Hymen brought his love-delighted hour,
There dwelt no joy in Eden's rosy bower."

Mr. and Mrs. Jacob Hurlburt lived in the County until 1851, when they removed into Lake county. They have raised a large family, and are in possession of ample means so far as worldly goods goes, to make life pleasant. The first marriage license issued by the Clerk of this County dates May 5th, 1836, to Richard Henthorne and Jane Spurlock, who were married on the same day by Cyrus Spurlock.
Chapter V.
1837. On the 15th day of February of this year Lake Co. began to paddle its own canoe. And with this exception nothing of much note transpired except the completing of our first Court House that was built a frame and located about where Mr. Frank Hunt's store now stands. The Court had been held in John Saylor's house in Valparaiso for the use of which he was allowed the sum of one dollar a day. But as the law directed there was a subscription paper circulated for the purpose of building a Court House and Jail. The donation was headed by B. McCarty, John Saylor, Enoch McCarty, L. E. Willis, $500.00; James Hutchins, $50.00; George Cline, $100.00; A. S. Campbell, $75.00; Isaac Morgan, $100.00; Chas. G. Minick, $25.00; Thomas Butler, $100.00; G. Z. Salyer, $100.00; Isaac Morgan, $50.00; and Ruel Starr, $100.00. In all $12,000. The contractors for building the Court House were Solomon Cheney and others, who finished their contract in Nov. 1837. The Jail was built of white oak logs with a brick foundation. Benjamin Saylor, Contractor, who finished the job in Nov. 1838. This Court House stood until 1853, when the present one was completed; and when Governor Wright visited Valparaiso during its construction, he pronounced it one of the best in the State. The Practical Observer of that date, edited by Judge Talcott, while commenting on the eulogy of Governor Wright, thought it ought to be one of the best for it cost so much money. The two buildings now occupied by Treasurer, Recorder, etc., were completed in Nov. 1850, but the Court House appeared to have some fraud connected with its erection, a matter that has since been repeated in the Chicago Custom House affair of last summer. But with regard to our Court House an extra session of the Commissioners was called relative to the prosecution of the work, for the bricks were thought to be unfit, and those in the wall were torn down. But in May, 1853, the House was accepted and considered a big matter. But you hear our citizens talking of at least a hundred thousand dollar Court House, and there is one thing that will admit of no dispute, and that is the fact that no county seat in the country can boast of a finer public square. The old log jail served out its career of usefulness and was superseded by the present one, which was completed in 1873. Wm. Shepard, our present Recorder, was the Contractor. The building cost the County $50,000, and Mr. Shepard a little more. This year found Oliver Shepard domiciled in the store of Thomas Snow who had settled in the Hoosier Nest in Union township about 1835, on the old Soc trail. The Nest was at that time quite a town as Mr. Snow had built there one of the first frame houses in the County, getting his lumber in Laporte County. Messrs. Forbes -- father of Elder Forbes of Valparaiso -- and Magee lived at this place about this time, or perhaps later. We here insert John Finley's (of Richmond, Ind.,) celebrated poem entitled
THE HOOSIER NEST,
with no further comment only than to say that we believe the poem will serve as an index to a Hoosier's pioneer life.

I'm told, in riding somewhere West,
A stranger found a Hoosier's Nest;
In other words, a Buckeye cabin
Just big enough to hold Queen Mab in.
Its situation low, but airy,
Was on the borders of a prairie:
And fearing be might be benighted,
He hailed the house,
and then alighted.
The Hoosier met him at the door,
Their salutations soon were o'er.
He took the stranger's horse aside,
And to a sturdy sapling tied;
Then having stripped the saddle off,
He fed him in a sugar trough.

The stranger stooped to enter in,
The entrance closing with a pin;
And manifested a strong desire
To sit down by the log heap fire,
Where half a dozen Hoosieroons,
With mush and milk, tin-cups and spoons,
White heads, bare feet, and dirty faces,
Seemed much inclined to keep their places;
But madam, anxious to display
Her rough but undisputed sway,
Her off-spring to the ladder led
And cuffed the youngsters up to bed.

Invited shortly to partake
Of venison, milk and Johnny-cake,
The stranger made a hearty meal,
And glances round the room would steal.
One side was lined with divers garments,
The other spread with skins of varmints;
Dried pumpkins overhead were strung,
Where venison hams in plenty hung;

Two rifles placed above the door,
Three dogs lay stretched upon the floor --
In short, the domicil was rife
With specimens of Hoosier life.
The host, who centered his affections
On game, and range, and quarter sections,
Discoursed his weary guest for hours
Till Somnus' all composing powers,
Of sublunary cares bereft 'em.
And then I came away and left 'em.

City West sprang into existence this year like a mushroom, and disappeared about as quickly. The builders and projectors spent the first year over ten thousand dollars on buildings and improvements, but in the following year being without a fire department she was burned to the ground. "There was no cow that kicked over the lantern," inn in this case the city caught fire from the burning of its surrounding forest.

The town of Talbott that was located two years previous about where the old Catholic Cemetery stands -- handed in its checks soon after, as Valparaiso was taking the lead. General prosperity in the whole County was the order of the day. After the County was trimmed down to its present limits, the first marriage that took place within its borders was that of Daniel W. Lyons and Anna Dillingham, that took place on the 6th day of February 1837. If the reader doubts that we are all creatures of imitation, all he has to do is to notice the number of marriage licenses issued by our worthy clerk, for the months of November and December ending 1875.
CHAPTER VI -- CRIME.
Stave Murder.
1838. In the spring of this year, two men named respectively Pelton and Staves, both non-residents, had been working in a saw-mill near Arba Heald's in La Porte County. It seems that the man Pelton had the saw-mill rented, and becoming somewhat involved financially, shook the dust of La Porte off his feet and started for "fresh fields and pastures new" with Francis Staves as guide. They followed an Indian trail into this County and while in a dense forest in West Chester township, as Pelton was riding his horse in advance, the assassin Staves shot him off his horse, and then, when on the ground shot him again. Then cutting a huge club beat the already dead victim's brains out.

-- And then the deed was done;
There was nothing lying at his feet
But lifeless flesh and bone,

Nothing but lifeless flesh and bone,
That could not do him ill;
And yet he feared him all the more,
For lying there so still;
There was manhood in his look,
That murder could not kill!

He took the dreary body up
And cast it in a stream
A sluggish water, black as ink,
The depth was so extreme: --"

And like Eugene Aram's victim, his body refused to remain concealed, although covered with sticks in the pool, and was discovered by the Indian Ge-geem-o-co-wah while rambling through the wood, and who immediately informed his chief, who at once sent word to the whites. Staves was caught that night in Michigan City, had an impartial trial by his peers, which resulted in a verdict of murder in the first degree, and he paid the penalty of his crime by stretching a hemp-rope, being
THE FIRST AND ONLY MAN EVER HUNG IN PORTER COUNTY.
We don't pretend to say but that there have been others who deserved a like fate.
Chase Murder.
The next murder of any prominence was the one that happened in the house of John Berry in Pleasant Township on the 11th day of May, 1853. The Particeps criminis was Chas. Chase, who stabbed W. Sweat several times in the shoulder and once in the abdomen, from the effect of which he died the next day. The affair grew out of a stolen watch. Chase let no grass grow under his feet until he was safe out of the country.
McIntosh Murder.
In July, 1879 [the year is obviously incorrect as this history was published in 1876], Pleasant Township figured in another murder of considerable prominence. A case of June being wed to December was the marriage of Charles Askam, a man whose head had been whitened with the frosts of about sixty winters, to a girl just out of her teens. "All went well as a marriage bell," till the green-eyed monster entered Mr. Askam's home.

A certain John McIntosh was the gay Lothario who had stolen his wife's affections. At least, so thought Mr. Askam, who doubtless believed with Lord Byron that "a real husband is always suspicious." At least, in an unlucky moment, he called on Mr. McIntosh who stood in his own door, and was shot dead. McIntosh had several changes in venue, and finally, while in South Bend, he was set at liberty through some technicality after the deed had been perpetrated some two years.
Page Murder.
We suppose that the murder of which we now write was perhaps as cold blooded and uncalled for as that of any crime in the pages of history. It is of such recent date, and of so much local interest, that a majority of the people of this county are conversant with most of the facts attendant on the horrible affair. And Father Long, the husband of one of the victims, step-father to another, and close neighbor to a third one, is now living in Valparaiso. Also many others who are concerned indirectly with some of the actors of this strange a matter of history, and one necessary to chronicle. It is another case where-in the green-eyed monster figured prominently, and was the moving principle that actuated the breast of Chauncey F. Page to murder a helpless and innocent wife, as well as his wife's mother, and to attempt the death of Miss Fredericka Ludolph, whose father Martin Ludolph, lives now where he did at the time so near the scene that might have bereft him of one of the members of his family. Page had been married about two years, and being a watch-maker was necessarily absent a good deal of the time, and was without cause jealous of his young wife who was a lady of more than ordinary mental qualities, and was as lovely in person as in mind. She was also very fond of society, and was the life of the parties and gatherings at which she was often found. But her husband, like the dog in the manger, would not enjoy life himself, and refused to allow his wife to do so. Consequently there was not always peace in the family, and matters went from bad to worse until his wife (Emma) was forced to return to her mother's house. The night of Jan. 15th, 1867, closed around the home of Father Long, and found him visiting his son Christopher, on Coffee Creek, which fact was undoubtedly known to the assassin. But he afterwards said that he had no ill-will against Mr. Long, neither had he against Miss Ludolph, whom the two women, Mrs. Rachel Long and her daughter, had invited to stay with them during Mr. Long's absence. Mr. Long's house stood just across the road from the house of his son-in-law, Ephraim Crisman, at Union Mills, in Union township. Page gained admittance by knocking at the door, and when Mrs. Long inquired who he was, he told her his name, and demanded admittance, which was refused. With an axe he broke open the door and shot down Mrs. Long, who was standing in the hall. The fiend then went to the bed where his wife was and murdered her, and was just about to leave the house when he discovered one of Miss Ludolph's feet protruding from under the bed clothes. He pulled the quilts from her head and when he found who she was, he appeared to feel sorry, at least so he told her, as well as the fact that since dead people tell no tales, she must die. She begged piteously to be spared, promising to never tell what she that night witnessed, but deaf to all entreaties he shot her in the head, the ball passing through her head just back of her eyes; another shot passed through the knee of her right limb, and one ball through her right arm. He then dragged her out of the bed and beat her over the head with a chair. He then placed his ear to her mouth and feeling her breath, pounded her once more over the head, and repeated the experiment about her breathing, and yet through all this she still remained conscious, and this time held her breath; the monster was now satisfied that she was dead, when he broke the lamp and saturated the bed clothing with the oil, to which he applied a match, and as the fire began to spread walked out into the snow, and away from the scene of his crime. The burning building was seen by Homer Smith, from the house of Mr. Eglin, a short distance east from there, where he had gone to enjoy a party. Mr. Smith gave the alarm and ran down to the scene of the fire, where he found Miss Ludolph standing at the gate, her night clothes crimson with her own blood, and unconscious. He took off his coat and wrapped it around her, after which she was taken to her father's, and strange to tell she now lives and enjoys the best of health, although she must carry her scars and the memory of that eventful night to her grave. She is now visiting friends in Germany. The murderer took a change of venue to Laporte county where he was tried, found guilty and sentenced to imprisonment for life. It is reported that after several unsuccessful attempts to commit suicide in the Michigan City prison, he was finally found in his cell suspended by the neck dead.
Schaffer Murder.
In the month of January, 1869, Henry Andrews, a tailor of Valparaiso, while in Tom Ward's saloon, got into an altercation with Phillip Schaffer, a journeyman tailor, then in his employ. Schaffer drew a knife and stabbed Andrews in the abdomen, from which wound he died four days afterward. Schaffer had his trial at Valparaiso, and received a sentence of two years imprisonment at Michigan City.
Chapter VII.
" -------- Man! Vain man!
Dressed in a little brief authority
Plays such fantastic tricks before high heaven
As make the angels weep."

There are many things in this world enveloped in mystery, and matters and murders transpire daily around us that will not be made known until that great and auspicious day, when the grave shall open wide, and the sea give up its dead. In October, 1850, Joseph C. Morgan, "Coroner," held an inquest over the body of a man found close to the city, west, and a little north of the railroad track, supposed to be murdered, as he was full of knife wounds. But from whom did he receive them? and who was he?

The same question might pertinently be asked of the body that was found hanging to a small tree in Mr. Sager's Mill yard on the morning of Dec. 9th, 1872. Was it suicide or was it murder? I believe that public opinion is unanimous on the subject. The victim, a foreigner, was scalped, and a larger piece taken off than even a Sioux would have thought necessary under any circumstances, three or four wounds on his body, that were made by some instrument similar to a butcher's steel. Hung by the neck and no blood on his garments! If he killed himself "All his hairs had lives and his great revenge had stomach for them all." And while their identity is unknown and their death is a mystery, yet somewhere in this great wide world, some one mourns, and some heart still hopes for their return. Surely nothing dies but something mourns. In 1858, two sisters, by the name of Wesser, a widow's daughters, while washing clothes in the lake, Eliza disrobed, to bathe, it is conjectured, and one getting beyond her depth, and the other going to her rescue, both were drowned. Others assert that the little nude fellow who runs around with his bow and quiver of arrows, shooting the lads and lasses promiscuously, through the heart, had something to do with their untimely fate. This same little god of love is rather unprincipled in some of his actions. At least he stirred up the hearts of the youthful Wm. Stoner against John Peoples, equally youthful, and to such an extent that Stoner caressed young People's with a jack knife, during a spelling school on Morgan prairie, in the winter of 1874-5, for which little amusement the December term of the Circuit court decreed that he should pay the sum of $300, with costs.
Croft Children.
Among the few deaths in this county from taking poison, that of the Croft family, on Twenty-mile Prairie, is the most melancholy. Mr. Croft administered to four of his children wormseed oil, as prescribed by a doctor of Hobart. Three of them, two girls and a boy, died from its effects. This happened in November, 1875, Mr. Croft's mother became insane from grief at the loss of her three grandchildren.
The Pugh Girl.
One of the most melancholy events that took place in this county was the accidental burning to death of Miss Sarah Pugh, in the seventeenth year of her age.

J. M. and Margaret Pugh emigrated to this country from Wales, where Sarah was born. they came from Stark county, Indiana, to our county in 1873, and settled near the Kankakee river, in Pleasant township. Mr. Pugh owns a steam saw-mill on the banks of the river, close to where he owns a farm, on which his house stands. Mr. Pugh and his son Thomas were plowing in a field adjacent to the house, and being troubled considerably with some marsh hay that lay scattered over the ground, and seeing his daughter Sarah, Mr. Pugh asked her to bring some fire from the house to burn the hay. This was about 2 o'clock p. m. Sarah brought the fire, and stood watching it burn; and while her father and brother were busy with their affairs, she got too near the flame, which caught her clothes, and, although she screamed with fright and pain, yet before assistance could reach her, she was wrapped in a sheet of flame. She managed to walk about ten steps, when motion failed her. Her poor charred body, in which life still remained, was carried by the grief-stricken father and brother into the house, from which she had gone but a few moments before in the enjoyment of the best of health and spirits. She was literally roasted alive. the neighbors rendered what assistance lay in their power. She lingered till four o'clock next morning, when her spirit returned to the God that gave it. The parents lost an obedient child, just budding into womanhood, and society one of its most beautiful and accomplished members.
The Romance of Elias Jones.
"There are more things in heaven and earth, Horatio, than are dreamt of in our philosophy," and the life of Elias Jones, now of Porter county, if written in full, would take a larger volume than this. So we will content ourselves with a brief notice of his remarkable life. We are apt to think that Don Quixote and Robinson Crusoe, as well as all heroes of fiction, are borrowed from the brains of their authors. But "truth is stranger than fiction," after all, for here we have a man in our midst whose experience is as equally strange and romantic with many others that have attained a wider celebrity.

In 1823, in Orangeville, New York, Elias Jones, aged 28, and Adelia Jones, aged 21 years, were married, and although they were suited with the match themselves, a brother of the bride refused to be reconciled, and after one child had been born to bless their union, this refractory brother came to the home of Elias during his absence and took his sister away. Elias followed and got shot in the hip, and returned the fire with so much interest that he thought it necessary to leave the country, and three months afterward his wife gave birth to a second son. Mr. Jones took to a seafareing life, and, after an absence of 31 years, he returned to get tidings of his wife and family, only to learn that they had left the country years ago, and had gone, no one knew where. After months of fruitless search, and while on his way to Missouri, and while stopping at Conneautville, Crawford county, Pennsylvania, he accidently overheard a conversation between two men, in which they spoke of a Bradford Jones, and as that was the name of his eldest boy, he naturally interrupted the conversation by asking where this Bradford was to be found. They answered him by pointing out a blacksmith shop, and to it he went., He found "the son of Vulcan, prince of the hammer," busy at work, and went to questioning him at once, and finally told Bradford who he was, and that they were parent and child. Bradford was incredulous and refused to believe the story, but consented to conduct him to the house of his mother, near Sandy Creek, Mercer county, Pensylvania. When they entered the house, Mr. Elias Jones saw an old lady sitting in the corner, smoking. Bradford stated his errand, and "who this man claimed to be." Her countenance expressed disbelief, but as soon as Elias spoke, she recognized him. The meeting can better imagined than described. Mr. Jones learned from her that he had been in the role of an Enoch Arden; that afer he left she heard that he was dead; and finally, through much importunity, she married a Mr. Swope, of her native place, who moved away from the scene of her youth; and by him she had had nine children; and that she was again a widow, but had always kept a green spot in her heart sacred to the memory of her first love. These two old people returned together to Conneautville, and were remarried. They both live in this county now with their daughter, Emily, who is now the widow of John Wheeler, of Centre township. Another daughter, her namesake, is the wife of John Hayes, of this same township. While Bradford Jones, the eldest son, a blacksmith of Valparaiso, is well known. Among the many little incidents of Mr. Jones' tramp of 31 years, the one pertaining to his fall from the yardarm of the good ship "Twin sisters," while in Liverpool port, deserves special mention. This tumble only broke both his legs, an arm, mashed a shoulder-blade and broke two ribs; yet, after a convalescence of 11 months, he was ready for business again. Martin VanBuren, who was then our Minister to the Court of St. James, gave Mr. Jones a pass to this country and $60 in gold. He was also in the war of 1812, for which he draws a pension, and is hale and hearty for one of his age.
CHAPTER VIII.
Physical Geography.
Although Porter county contains no mountains, yet its surface is generaily undulating; and some respectable hills may he climbed in the county, especially in Jackson township. Twenty-mile prairie makes a portion of Union and Portage townships rather level. Morgan prairie does the same for Morgan township; and Horse prairie (which received its name from its resemblance to a horse shoe) does the same for Porter township. The Lake Michigan shore, that forms the northern boundary of Pine, West Chester and Portage townships, is decidedly sandy, extending as far south as to include a portion of Liberty and Jackson townships. The Indians, who once inhabited this county, used to speak of Centre as "ke-kish-ke-tah-kink" -- the land cut up with ravines. The southern portion of Union township is similarly affected. The townships of Pleasant and Boone are made up of a sandy or loamy soil, and are full of dense forests.
Lakes and Streams.
Besides Lake Michigan, which forms the northern boundary of the county, we have:

Fish Lake, in Pine township;
Star Lake, in West Chester township.
Longinous Lake, in Portage township.
Long Lake, in Liberty and Centre townships.
Flint Lake, in Center township.
Hollister's Lake, in Union township.
Lake Eliza, in Portage township.

There are several more in minor importance in the county.

Besides the Kankakee river, forming the southern boundary of the county, it contains:

Salt Creek -- Wun-tah-gi-uck -- Indian name for a deer lick.
Calumit river -- originally Calumic. The Indian name was Mum-koke-se-pe.
Coffee Creek -- named so in consequence of the mail carrier, who was
driving a wagon, in the early history of this county, across
the creek losing in it a sack of coffee. The creek was swollen
from recent rains, and hence the accident. There are many
other creeks on which mills are erected, and large springs all
over the county.
Cities and Towns.
Old City West, an Indian barricade at the time this country was first known to the whites, and now used as a summer resort by many, is the oldest point in this county entitled to the name of a town. Mr. Joseph C. Morgan was at an Indian burial at this place in 1838. It was the funeral of a squaw, wife of the principal chief. The ceremonies consisted of speaking, singing, dancing and a sacred feast of well-baked venison.

Hebron was laid out by Jacob Patrick.

Wheeler was laid out by T. A. E. Campbell, September 29th, 1858, and named for an engineer on the P. Ft. W. & C. Railroad.
Chesterton.
This city was laid out by William Thomas and brothers. It is now a place of considerable importance. Mr. Ingraham runs the grist and saw mill. the principal hotel is owned and managed by Dr. E. J. Jones. Doctors Morrical, Green and Marr are its leading physicians. Its merchants and all other business men have a thriving trade. It was originally Calumet, but changed to Chesterton.

Hageman was laid out december 2d, 1871, by Henry and Hannah Hageman.

Porter Station was laid out September 11th, 1855, by Richards and Travel.

Prattville was laid out November 11th, 1856, by Pratt, Malone & Beach.

Tassinong, September 27th, 1852, by Bartholomew & Spencer.

Emmetburg, December 8th, 1868.

Koutts Station, November 3d, 1864, by Barnhart Koutts.

Burdick, October 22d, 1875, by Peterson & Anderson.

Suman, June 1875, by I. C. b. Suman.

Flintville, March, 1875, by Wheeler, Goodman, et al.
Valparaiso.
As stated in a previous chapter, Valparaiso was laid out by Benjamin McCarty, as Portersville. He called it Portersville, because Porter was the name of the county and ville is the French for town or city. but it was changed to Valparaiso, which name means "Vale of Paradise," in 1837. It was located as the county seat by W. L. Earl, Matthias Dawson and Judah L. Leaming, commissioners appointed for that purpose. It was incorporated as a city on the 2d day of December, 1866. Hon. T. J. Merrifield was the first mayor, succeeded by Thomas g. Lytle, who was succeeded by the present incumbent, John Skinner.

It now has a city council, with six alderman and three wards. Its population was, in 1850, 520, in 1860, 1690, and in 1870 it has a population of 2765; and, according to Sylvester W. Smith's enumeration, in 1875, it contained 3,560 persons. the students of the Normal School number 1,000.

Valparaiso contains the county buildings (except, of course, that of the poor farm) as it is the capital of the county. Its jail is one of the finest structures of the kind in the Northwest.

While Mr. Lytle was mayor, the city erected a school building, which for style of architecture, design and finish is second to none in the county. Professor Banta is its principal, assisted by an able corps of teachers. Messrs. Letts, Maulsby and Freeman are trustees. Valparaiso also has the largest normal school in America. Professor H. B. Brown is principal; and, owing to his indomitable energy, the school has increased from 40 pupils in 1872 to 1,100 in 1875. It has plenty of water power and other facilities for manufacturing purposes; is situated on the Pittsburg, Ft. Wayne & Chicago Railway, with the Chicago & Lake Huron Railroad using the city as a terminus for its track. It is in a healthful location, and full of enterprising business men; runs two banks and two newspapers.
Hebron,
Located on the Pittsburgh, Cincinnati & St. Louis Railroad, it is a metropolis of considerable importance. Mr. Wilson owns the grist and saw mill. The principal hotel is kept by West Winslow, and Doctors Pratt and Blackstone are the leading physicians, and John B. Peterson attorney at law.
Railroads.
There are now 88 1/2 miles of railroad running into and through the county, as follows:

Pittsburgh, Cincinnati & St. Louis, 15 1/2 miles; constructed in 1865.

Pittsburgh, Ft. Wayne & Chicago, 4 1/2 miles; constructed in 1858.

Chicago & Lake Huron, 7 3/4 miles; constructed in 1874.

Michigan Central, 17 miles; constructed in 1874.

Lake Shore & Michigan Southern, 15 1/4 miles; constructed in 1851.

Baltimore & Ohio, 16 1/2 miles; constructed in 1873.
Eighth and Ninth Census.
some of our townships changed in size between the seventh and eighth census; consequently we give but the eighth and ninth.
TABLE,
SHOWING THE POPULATION OF PORTER COUNTY FOR THE YEARS 1860 AND 1870, AND THE NATIVITIES OF THE SAME FOR THE YEAR 1870.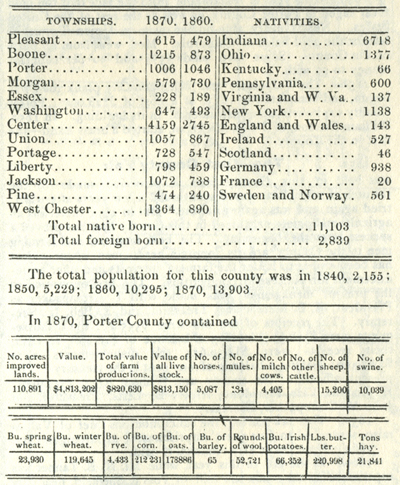 GENERAL TABLE.
No. of male population in the county in 1870 . . . . . . . . . . 7,199
No. of female population in county in 1870. . . . . . . . . . . . 6,743
No. of males over 21 years of age . . . . . . . . . . . . . . . . . 3,406
Am't of Moneys in county treasury, May, 1875 . . . . . $28,034.22
Am't of school fund in county treasury, May, 1875 . . . 10,364.20
No. of paupers in county . . . . . . . . . . . . . . . . . . . . . . . . . . . 24
No. of children over 6 and under 21 years of age . . . . . . . 2,292
1874.
No. of school houses -- 15 brick, 71 frame and 1 log -- . . . . . 87
Value of houses, grounds, seats, etc. . . . . . . . . . . . . . 95,534.00
Value of school apparatus -- globes, maps, etc. . . . . . . 3,689.00
No. of volumes in township libraries . . . . . . . . . . . . . . . . . . 875
No. of Male teachers licensed in 1874 . . . . . . . . . . . . . . . . . . 51
No of female teachers licensed in 1874 . . . . . . . . . . . . . . . . . 68
CHAPTER IX.
RECORD OF THE WEATHER, ETC., NOTICED IN PREVIOUS CHAPTERS.

1835. Very mild winter, but cold February, and heavy snow storm in April.

1836. Summer wet; harvest backward.

1837. Summer excessively wet. Winter cold. Squatters' Union formed.

1838. summer excessively hot and dry. Drouth prevailed. Musk rats were driven out of their usual haunts, and even went into houses in search of water. Winter mild. A mail route established between La Porte and Joliet, to take the place of the Chicago and Detroit mail. H. S. Pelton, contractor, this summer.

1840. General Brady passed through this county from Michigan with eleven hundred Indians. they camped for the night on section 20 of Union Township, and Dr. Cornelius Blachly, on whose premises they located, says that when the morning came, the chief, who had become dissatisfied from some cause, stepped to the door of his tent, and, by a signal from him, every warrior sprang to his feet, with a gun, ready for business. But General Brady told him, that although they had the mastery now, and could butcher them all, yet "the Great Father at Washington would be avenged." They finally quieted down and marched off. This was also the year of "the log cabin and hard cider campaign," "Tippecanoe and too." Our County was Democratic, and for Martin Van Buren. This year was also known as the year of the great wheat blight.

1842-3. One of the severest winters in the history of this country. Great numbers starved to death, and a number of people frozen. Snow twelve inches deep in April. Backward spring and mild, wet summer.

1843. Commissioners appropriated %40 for fencing court house yard, and ordered County Agent, C. E. DeWolf, to see it done. It was afterwards replaced by a better one, and that by the iron fence of the present day, built in November, 1875; costing about $6,000. The first County Attorney for the Board of Commissioners was H. S. Ortom, 1844.

1844-45. Warm New Year's Day -- dusty and dry. Winter unusually mild.

1846. great deal of sickness during summer. Year the Mexican war broke out.

1847. Captain Joseph P. Smith resigns the offices of Clerk and Auditor to take his company to Mexico. Quite a number went with him from our County. In April of this year the voters of Centre Township determined by a majority of fifty "that there should be no license granted for the retail of spirituous liquors therein during the years to come" for which the Western Ranger congratulated the people in an issue bearing the date April 10th, 1847.

1849. this year is remarkable from the fact that the gold fever raged in Porter County, as well as the rest of the United States. Nearly every able-bodied man in union Township left for the gold fields of California. Men went from all parts of the County. Some men paid 33 1/3 and 50 per cent for money to go with.

1850. The Valparaiso and Michigan City plank road was begun, and completed in 1853, at a cost of $128,000. Porter County capitalists were instrumental in its building. In 1850, William Pierson, of Niles, Michigan, started a brass band -- the first in the County.

1852. The First County Fair

was held in this County from a provision made by the statutes of 1850, but was discontinued a few years afterward; tried again, and was again a failure. But in 1871 there was an agricultural society organized in this County that has proved a success from the beginning. the best financial and farming men in the County are its fountain-head; men whose object has been and is to better the farmers' interests and offer an inducement for successful competition. The first exposition of the present management was made with T. Crumpacker as President, M. L. Metelleland, Treasurer, and R. Bell, Jr., Secretary. The receipts of the fair were$555.45; the disbursements were $528.97; leaving a balance of $26.48. In 1874, their receipts were $1,639.61; the disbursements were $1,639.60; leaving a balance of one cent in the treasury. The present officers of the society are, William Rigg, President; H. Loomis, Vice President; Albert E. Letts, Treasurer, and John M. Crumpacker, Secretary.

1856. This saw Loring, the sanctimonious thief of Valparaiso, sentenced to four years' imprisonment at Michigan City.

1864. New year's Day remarkably cold.

1869. In the fall of this year, while Mr. N. B. Tanner was superintending the steam saw mill of Foss & Sheffield, near city West, the boiler, from some unaccountable means, exploded, and blew the body of Erwin Bently, the engineer, out of the mill some ten rods. He was taken up insensible, and died that way in about three hours; and strange to say, he was the only one about the mill injured.

1875-76. This season was rather backward in the spring. summer cool. Indeed, the month of December was a pleasanter one than May. the New Year's day was as mild and pleasant as the most ardent admirer of warm weather would have it to be. You could almost see the grass grow, and the frogs you could see in any of the marshes, who doubtless imagined that balmy spring with its vernal showers had set in. Considerable sickness throughout the County. In the western portion, a malignant form of typhoid fever raged, from the effects of which William Hollister lost a son, about sixteen years of age, and a little daughter was only saved through the skillful hands of Dr. A. W. Vincent, of Deep River. Besides the Hollister boy, two of the Caldwell boys -- brothers -- died, out of six of that name thus afflicted. Mr. Orson Strong, who came into this County in 1836, died with the same disease, while five of his family were very low with it. Widow Curtis lost her son, Oscar, who was her staff in her declining years. They were all relatives, and lived in Union Township.
County Commissioners.
Noah Fowts, 1836; Benjamin Spencer, 1836-7; John Seffon, 1836-7; J. Y. Wright, 1837-8; James Walton (who is an 1812 pensioner and lives in Michigan, where he went with his son in 1872), 1839; Jonathan Griffin, 1838; John Jones, 1838; Joshua Hobert, 1839; John H. Whistler, 1839-40; Reason Bell, 1840-43; Thomas J. Field, 1843 (appointed by Probate Court to fill vacancy occasioned by the resignation of Colonel Whistler); Jesse Morgan, 1841-42; John Dinwiddie, 1841-43; Russel Dorr, 1843-44; Nathaniel Sawyer, 1843-45; Richard W. Jones, 1844-46; Samual Olinger, 1845-46; Isaac Morgan, 1846-48; J. Dinwiddie, 1847-50; Walker McCool, 1848-51; Azariah Freeman, 1849-50; Ruel Starr, 1850-55; Asa Cobb, 1850-53; Alexander Chambers, 1851-53; Ira Cornell, 1853-57; H. E. Woodruff, 1854-57; Asa Cobb, 1857-60; John Hardesty, 1855-67; William Williams, 1857-58; Eli B. Lansing, 1858-62; W. Stoddard, 1860-61; L. A. Cass, 1861-62; S. P. Robbins, 1862-65; A. B. Price, 1862-63; William Stoddard, 1863-67; Edward C. Osborn, 1865-68; T. B. Cole, 1867; A. B. Price, 1867; A. V. Bartholomew, 1868; S. P. Robbins, 1868.

1837-76. Judges Circuit Court.

1st. Samuel Sample, of South Bend. 2s. E. M. Chamberlin, of Goshen. 3d. Robert Lowry, of Goshen. 4th. Thomas Stanfield, of South Bend. 5th. Andrew Osborn, of La Porte. 6th. Hiram A. Gillette, of Valparaiso, the present incumbent.

1836-76. Judges, Probate Court.

1st. Jesse Johnson -- Seneca Ball and James Blair, Associate Judges.
2d. Geo. W. Turner -- Enos Thomas and John Herr, Associate Judges.
3d. Nathaniel Campbell -- H. E. Woodruff and Benjamin N. Spencer, Associate Judges.
4th. William Talcott.
5th. John Jones (appointed to fill the vacancy occasioned by the resignation of Judge Talcott, who remained on the bench about six months, till the office was abolished, in 1852, for the
Common Pleas Judges.
1st. H. Lawson.
2d. William C. Talcott.
3d. Hiram A. Gillette.
Office abolished in 1872.
Senators.
In 1837, our Senatorial District was composed of the Counties of La Porte, Newton, White and Pulaski. Our State senator was Charles W. Cathcart, 1837-70; Sylvanius Everetts, 1840-43. In 1842, the district was changed so as to contain only La Porte, Porter and Lake.

Joseph W. Chapman, 1842-45; Andrew L. Osborn, 1845-49; Abraham Teegarden, 1849-51 (no record for 1852); Samuel I. Anthony, 1853-57; Morgan H. Wier, 1857-58.

In 1859, Porter, Lake and Jasper. Senator, David Turner, 1859-1861.

In 1863, Porter, Lake, Jasper and Newton. Senator, Ezra Wright, 1863-65.

In 1869, Porter, Lake and Newton. Senator, Erwin Church, 1867-69.

In 1871, Porter and Lake. Senator, Richard Wadge, 1871-75; D. L. Skinner, 1875.
Representatives.
In 1836, Porter and Newton Counties composed our Representative District.

Representatives: Benjamin McCarthy, 1837; Jeremiah Hamil, 1837 (no report for 1838-39).

In 1840, Porter and Lake, represented by Seneca Ball, 1840-41; Lewis Warriner, 1841; Adam S. Campbell, 1842-43; Alexander McDonald, 1843-44; Samuel I. Anthony, 1844-45; Alexander McDonald, 1845-46; Harvey E. Woodruff, 1846-47; Alexander McDonald, 1847; Benjamin Spencer, 1848; Lewis Warriner, 1849-50; Wm. H. Harrison, 1850-51.

In 1851, Porter County was formed into one distinct district, and represented by Gideon Brecount, 1851-53; Artillus Bartholomew, 1853-55; Andrew B. Pierce, 1854-57 (no record for 1859); Robert A. Cameron, 1861; Levi A. Cass, 1863-65; Firmin Church, 1865; John F. McCarthy, 1865-67; Gilbert A. Pierce, 1867-69; William H. Calkins, 1869-71; Theophilus Crumpacker, 1872-73; Theodore Crumpacker, 1873.
Clerks.
1st. George W. Turner, 1836-43; 2d. John C. Ball, 1843-50; 3d. William W. Jones, 1850-55; 4th. O. Dunham, 1855-59. 5th. E. J. Jones, 1859-67. 6th. S. W. Smith, 1867-71; 7th. R. P. Wells, 1871.
Recorders.
1st. Cyrus Spurlock, 1836-39; 2d. George W. Salisbury, 1839-41 (appointed to fill the vacancy occasioned by the removal of Cyrus Spurlock); Obediah Dunham, 1850-55; Edna L. Whitcomb, 1855-1859; Thomas Jewel, 1859-67; Henry Stoddard, 1867-75; Thomas C. Shepard, 1875.
Treasurers.
Wm. Walker, 1836-39; T. A. E. Campbell, 1839; resigned; G. W. Salisbury appointed in his stead, 1839-40; John W. Wright, 1840-43; J. A. E. Campbell, 1841-44; Elias Axe, 1844-47; E. Campbell, 1847-51; John Ball, 1851-53; William Wilson, 1853-55; O. I. Skinner, 1855-59; Warren Dunning, 1859-63; S. W. Smith, 1863-67; F. F. b. Coffin, 1871-75; J. W. Felton, 1875.
Auditors.
Geo. W. Turner, 1841, appointed; Philander A. Paine, 1841-43, resigned; Ellis E. Campbell, 1843, appointed; Ruel Starr, 1843; S. W. Smith, 1843-58; Reason Bell, 1858-66; Z. B. Field, 1866-70; Reason Bell, 1870.
Sheriffs.
Benjamin Saylor, appointed by Governor 1836; George Cline, 1837; Charles G. Merrick, 1838-43; John W. Wright, appointed, 1843; Moses Trim, Richard W. Jones, Vincent Thomas, 1850-52; Thomas G. Lytle, 1852-56; Thomas B. Cole, Stephen L. Bartholomew, Henry Binamon, Robert Jones, 1872.
CHAPTER X.
History of Journalism in Porter County.
The first newspaper established in Porter County was published in 1843 by James Castle, and called The Republican, a 12 by 16 sheet. Castle edited this sheet about a year, and was bought out by Wm. M. Harrison, who, in 1847, sold a half-interest to Wm. C. Talcott, who at once infused new life and vigor into the matter by enlarging the size of the sheet. This copartnership continued two years, when Mr. Talcott bought the entire interest of M. Harrison, changing its name to The Practical Observer, and again enlarging it. Mr. Talcott published his paper with great credit to himself and the County, till 1857, when he sold to R. A. Cameron, who changed its name to the original Republican. At the breaking out of the rebellion, Mr. Cameron went into the three months' service as captain, but continued in the ownership or the paper till the close of the war, when Messrs. Harper and Gil. Pierce bought Mr. Cameron out. The latter sold to Aaron Gurney, who consolidated it with his Vidette, that he had started in the meantime. His paper was then called the Porter County Vidette and Republican. Gurney formed a copartnership with George Kimball, who soon after retired, and now publishes a paper in Kansas. Mr. Gurney sold to Talcott & Son in June, 1874, who continues its publication as the Porter County Vidette. This original newspaper in this County was neutral in politics till Mr. Harrison took the helm, who was a staunch Virginia Democrat; and of course the paper was his echo, and remained as such until 1854, when it fused into a Republican sheet. As this was the Fremont and Buchanan campaign, the Democrats, needing a representative newspaper, started one in this County, called the Porter County Democrat, with a Mr. Miller as editor. It was owned successively by Spencer, Rock and others, when it became extinct. Mr. Zimmerman started the Messenger, a Democratic sheet, in March, 1871.
Secret Societies. --- Free Masons.
The oldest Masonic lodge in the County is Porter Lodge A. F. and A. M. No. 137, chartered May 29th, 1852. W. M. for ensuing year of 1876, John D. Wilson. Number of members, 120.

Evergreen Lodge A. F. and A. M. No. 403, chartered May 25th, 1869. W. M. for 1876, Andrew Harrison. Number of members, 21. Located at Wheeler.

Calumet Lodge A. F. and A. M. No. 728, chartered November 10, 1870. W. M., F. F. B. Coffin. Number of members, 46. Located at Chesterton.

Pleasant Home Lodge A. F. and A. M. No. 422, chartered June 24th, 1872. W. M. for 1876, A. J. Zorn. Number of members, 29. Located at Koutts.

Hebron Lodge A. F. and A. M. No. 502, chartered May 25th, 1875. W. M. for 1876, Lyman C. Dunn. Located at Hebron.

Valparaiso Chapter No. 97 R. A. M., chartered October 20th, 1870. W. E. Brown, M. E. H. P. for 1876. Number of members, 70.
Odd Fellows.
The oldest lodge of any kind in this county is the Che-que-uk Lodge No. 56 I. O. O. F.; instituted December 2d, 1848, through the instrumentality of J. D. Dunning, Esq. Che-que-uk is the Indian name for good or very good. N. G. for 1876, J. J. Ferris. Located at Valparaiso. Number of members, 70.

Che-que-mink -- Big Water -- Lodge I. O. O. F. No. 161, instituted June 5th, 1855. N. G., John Doe. Number of members, 45. Located at Chesterton.

Magenta Lodge No. 288, I. O. O. F., instituted November 20th, 1867. S. S. Reed, D. D., G. M.; Vine T. Clement, N. G. Number of members, 15. Located at Wheeler.

Zenith Lodge, located at Hebron.
CHAPTER XI.
Baptist.
ALTHOUGH there were many professing Christians in this county as early as 1837, the Baptists were the second denomination to organize themselves into a society for the purpose of offering tributes of praise to the Giver of every good and perfect gift.

On the 8th day of June, A. D. 1837, those who professed the Baptist mode of religion gave a call to Elder A. French, and assembled on the 10th day of this same month at the house of Morris Withem, on Morgan Prairie, with Elder A. French as moderator. The following names were enrolled as a church organization, and subscribed to the Articles of Faith: John Bartholemew, Drusilla Bartholemew, Edmond Billings, James Withem, John Robinson, Morris Withem, Rebecca Withem, Charity Billings, Warner Pierce, Adelia Pierce and three others -- thirteen (13) in all; and on the next day received the hand of fellowship from Elder French. The further organization of the church was perfected by choosing John Robinson and John Bartholemew, Deacons; Jacob C. White, Clerk; Warren Pierce and James Withem, Trustees. On the 8th day of February, 1840, the name was changed to the First Baptist Church of Valparaiso; Elder French continued as pastor for five years; and closed his earthly labors on the 8th day of March, 1860; he died in Valparaiso at the advanced age of 89 years, and was buried in the old cemetery. H. S. Orton followed him as pastor, being ordained and licensed by the church. In 1844 Elder W. T. Bly was called and remained three years with this church; he is now laboring in Minnesota. Elder A. Nicherson was the next pastor, and remained five years; during his pastorage the church edifice was constructed, at a cost of twenty-two hundred dollars, and dedicated on the 17th day of March, 1853; Elder Silas Tucker preached the dedication sermon. During this year, Deacons Mason and Eglin were received into the church, and they, in connection with Deacon Finney, constituted one of the most efficient boards of officers the church ever possessed. They were men of age, influence and means, and success crowned their efforts. Through their influence, Elder H. Smith became pastor in 1864, continuing as such for six years; he had large congregations, and under his ministrations the church prospered as never before. In April, 1859, T. Keene was elected Sabbath School Superintendent, which position he filled for thirteen years. He was succeeded by James Drapier, for four years, and Mr. D. by the present incumbent, Dr. Fish. Elder G. T. Brayton succeeded Elder Smith and the Elder by J. D. Cole. Elder J. M. Maxwell, pastor, 1863-4, under whose labors the church was relieved from debt, prospered in membership and finances; during which time the church purchased a bell. Elder M. T. Lamb was pastor for two years, during which time there were fifty members added to the church, mostly Sabbath School scholars. Elder O. Saxon, pastor 1868. Mr. Harper, a Chicago student, a part of 1869. Elder W.A. Caplinger was called in 1870, and during his labors the building was re-arranged and a baptistry built; Elder Caplinger remained three years. Elder W. A. Clark, 1873, who canvassed the church for means, to which Father Hanson subscribed $500 and $1,000 more was easily obtained, and during the absence of the elder in Kansas, the efficient supervision of Deacon J. S. Louderback succeeded in building the neatest parsonage in the city, costing, with the chapel, over $2,000. In 1875, Elder E. S. Riley, the present pastor, was called; besides his regular duties he preaches at Gordon's school-house and other places. In the June Association, held at Crown Point, they reported a membership of one hundred and fifteen; the present officers are -- -J. S. Louderback, J. Keene, Deacons; Wm. Knapp, Clerk; Andrew Pierce, Wm. Knapp and A. Winslow, Trustees.

UNION CENTER Baptist church was started by letters granted from the First Baptist Church of Valparaiso, bearing date April 10th, 1858, under the supervision of Deacons Cornelius Blachly, Orin Peck and Captain Wood; they have a fine house of worship, which has lately been remodeled and painted, through the energy of J. W. Peck and others, and, situated as it is in a fine grove of timber, at Union Center, it presents a very picturesque appearance. They have no resident pastor, but during the fall of 1875, under the efforts of Elder Finch, this society received a number of additions to its membership. Present officers -- Boyd Blachly, Orin Peck and Captain Wood, Deacons; J. B. Peck, Clerk; and David Peck, Sunday School Superintendent. We here append the third one of a set of resolutions, adopted at the session referred to, and subscribed to by those two bodies.

Resolved, That we hold to the Apostolic practice of requiring a conversion as the pre-requisite to baptism, and baptism as necessary to church membership, and that church members only should receive the Lord's Supper.
Christian Church.
This denomination was first organized on Morgan Prairie, at the house of Henry S. Adams, in the month of June, 1840; they now have one of the finest church buildings in this County, close to the house of Mr. Adams, on Morgan Prairie. It is built of brick, at the expense of $3,500; L. Comer, pastor. Soon afterwards, as there were a good number of this belief in Valparaiso, they organized themselves into a society, and, like their brethren on the Prairie, have a very fine house of worship, built of brick, at an expense of $3,500. They also have an organization at Boone Grove, a frame church building, costing about $1,500; organized in 1844; Wm. Jones, pastor. This society has an organization at Hebron, where they hold church in the school house of that place; they have quite a large congregation and are planning the erection of a church building; Mr. Elias Axe, R. P. Wells and L. Comer with other leading men, represent the interests of this church in this County.
Methodist.
That branch of the church, known as the Methodist Episcopal, are the pioneers of church organization in this County. As early as 1835, while conference was convened at Lafayette, Ind., and presided over by Bishop Robert R. Roberts, a missionary minister was sent to the Deep River mission, by the name of Stephen Jones, embracing the territory of Porter and Lake Counties, which continued as one circuit up to 1843, when Crown Point was cut off and Lake County with it. Bro. Jones was very well received, but there is an old story that says, when he called on Judge C------- and made known his errand into the County, the Judge told him that if he could make pork and flour any cheaper, they would be glad of his services, otherwise not, as they had got along so far without a preacher and guessed they could in the future. Nevertheless Bro. Jones went to work in the good cause, and returned sixty members. The first presiding elder, the Rev. Richard Hargrave, and missionary, Jacob Colclazer, held the first quarterly meeting in this County in a private residence in Twenty Mile Grove, in Jan., 1840, in the Hoosiers Nest. 1837 found in this field the same presiding elder and Hawley B. Beers, who returned one hundred members; 1838, Rev. Aaron Wood, presiding elder, and Samuel K. Young returned one hundred and twenty-six members; 1839, the annual conference met at Lawrenceburg, on the Ohio river, and twice during the session did the presiding elder ask a young minister present, who had but recently been ordained, where he wanted to go to, and was answered both times, "anywhere." When the appointments were announced, this young man, W. T. Forbes, was assigned to the Kankakee mission (the name had been changed from Deep River to Kankakee). This mission, in the northwest corner of the State, was two hundred and fifty-two miles distant from where Mr. Forbes then was. He moved that distance in a wagon. All his predecessors had been unordained men, and the people on this circuit earnestly desired an ordained preacher, and Bro. Wm. Gosset, on Salt Creek, told Presiding Elder Wood that rather than miss having one he would bread the preacher's family a year out of his mill. As may be inferred, Rev. Forbes was the one they wanted. Rev. Forbes organized the first class in Valparaiso, and was sent back to this field by the next conference, that convened in 1840, at Indianapolis, where the name and relation of this field was changed; this County was called the Valparaiso circuit; two hundred and seventy-five members returned. This year Bro. Forbes spent $106.16 more than he received. 1840, same Presiding Elder, and Isaac M. Stagg on the circuit, who had a large revival and returned three hundred and fifty-four, a net gain of one hundred and twenty-one. 1842, W. R. Good, presiding elder, and Wade Poesy on the circuit. 1843, Chas. M. Haliday, presiding elder, and Warren Griffith, a very eccentric man, on the circuit. As this was the year in which Crown Point was cut off, and Mr. Haliday returned one hundred and seventy-five members, this was the actual membership of the Methodist Church in this County. In 1849, while John Daniels was presiding elder and J. G. D. Pettijohn, pastor, built in Valpariso their first house of worship; 1852, while John L. Smith was presiding elder and David Crawford, pastor, was built the present parsonage, with eighty-eight members and ten probationers. In 1858 the Northwestern annual Conference convened in Valparaiso for the first time in its history, Bishop Edward Ames, presiding. Ten years later it met there again, Bishop Edward Thompson, presiding. 1876, the Methodist Church has now on the grounds that comprised Bro. Stephen Jones' mission of 1835, eight charges, with a membership of one thousand and forty. The Methodists have nine houses of worship in this County alone, costing $14,000; two parsonages, costing $2,600; five circuits and an aggregate membership of seven hundred and forty-nine, Rev. Russel D. Utter, presiding elder.
Presbyterian Church.
In the fall of 1839, the Rev. James C. Brown came to Valparaiso as a missionary preacher, and labored at various places in Porter and Lake Counties. On the 3d day of July, A. D. 1840, a committee of the Presbytery of Logansport, of which the Rev. James C. Brown was chairman, organized the Presbyterian Church of Valparaiso, the following ten persons constituting the membership at that date, viz.: Judge James Blair and his wife, Isabel, also his daughter Mrs. Elizabeth Martin, Mr. Morgan B. Crosby, Mr. Henry Battan, Mrs. Elizabeth Darrach Marshall, Mrs. Abbey Salisbury, Mrs. Bathsheba Elizabeth Hamill, Mrs. Mary E. Brown and Mrs. Nancy Buel. Messrs. Blair and Crosby were elected ruling elders, and Mr. Jeremiah Hamill, trustee. The number of communicants in the church at the first annual report in April, 1841, was twenty-four; in 1844, sixty-eight; in 1850, one hundred and sixteen; in 1855, one hundred and ninety-five; in 1860, two hundred and eighty; in 1865, two hundred and forty-two; in 1869, two hundred and eighty-six; on January 1st, 1876, two hundred and twenty. The number of persons who have been communicants from the organization to January 18th, 1876, is eight hundred and ninety. At the first the court house, then a frame building on the west side of the public square, was used by all denominations for public worship. In a few years the Presbyterians built a house of worship south of the public square. In 1859 this house was removed to the lot now occupied by the congregation for church purposes. The building was then enlarged, and with various additions, continues in use to this day. The ruling elders of the church have been: James Blair, Morgan B. Crosby, James M. Buel, W. R. Strong, A. J. Buel, S. P. Robins, Ashley L. Pierce, Joseph Pierce, John D. Wilson, Stephen L. Bartholemew, Hiram A. Gillett and Frank Commerford. Mr. Crosby has been an active ruling elder from the organization of the church to this date. The Deacons have been: T. G. Finney, S. L. Bartholemew, Daniel S. White, Abel J. Isham, Wm. Wilson, David C. Herr, Wm. Garrison and John Garris. The Rev. Dr. Brown preached in this church continuously, with great acceptance and usefulness, from 1839 till his resignation, July 30th, 1860. He had not been installed as pastor until December 10th, 1855. In the meanwhile he had been instrumental in building up and organizing churches at Crown Point, Salem, Tassinong and Wheeler. Dr. Brown subsequently labored as financial agent of the Presbyterian Theological Seminary of the northwest. After laboring in St. Louis and then in South Bend, he closed his useful and honorable career as chaplain of the 48th regiment of Indiana volunteers, in which service he died at Paducah, Kentucky, of disease contracted while laboring with great self denial at his post of duty. The Rev. Samuel C. Logan was elected pastor September 11th, 1860, and resigned July, 1865. Robt. Beer, the present pastor, commenced his labors in December, 1865, and was installed pastor May 8th, 1866. From the annual reports to the Presbytery, it appears that there was raised for congregation and miscellaneous purposes, during the first twenty years, $12,171. The reports are deficient, however, for a number of years, as to the amount given for congregational purposes. During the same time, there was given for the benevolent boards of the church $2,629. During the next five years the amount raised for congregational purposes was $13,919, and for the boards of churches $1,339. In the last ten years there were given for all purposes $26,432, and for the boards of the church $3,934; total amount raised for all purposes since the organization of the church is $60,431. In addition to the church buildings and lot, this society owns a commodious parsonage at 42 Washington street, purchased in 1867 for $2,500; title of the church building, near the residence of S. P. Robins, is also vested in the trustees of the Valparaiso church. During the ministrations of Dr. Brown, there was a church organized in April, 1861, in Hebron. They have a church building and a pastor, Rev. Spencer Baker, who also officiates at Tassinong, where they have a church, house and organization dating from April, 1854, also one at Salem, dating from 1844.

The United Presbyterians have quite a large society, with a church building at Hebron, Rev. J. N. Buchanan, pastor.

The Reformed Presbyterians have a fine house of worship in Porter Township, Rev. R. M. C. Thompson, pastor.
United Brethren.
The United Brethren church have quite a large membership in this county, and during 1872 they formed an organization at Union Center, at which place their church book shows a membership of about forty. Together with Union Township, they have this winter just completed a building, the lower room of which the township uses for a school, and the upper story is used for church purposes. The church trustees are John Hardesty, David Hardesty, Sr., Jerry Burge, Joseph Zea, sen. and Wm. Nichols; steward, J. Burge, pastor, Rev. Martin.
Unitarian.
The first Unitarian Church was organized in Valparaiso on the 5th day of January, 1871; Rev. Enoch Powell, first pastor, called July 30th, 1871, and left November 3d, 1872; succeeded by Rev. Carson Parker, called April 6th, 1873, whose term expired November 1st, 1875; membership at present, one hundred; T. G. Lytle, T. G. Miller and J. F. McCarthy, trustees; A. E. Letts, treasurer and secretary. This society owns a fine brick church building, on the corner of Washington and Institute Streets.
Reformed Mennonite.
The Reformed Mennonites have a brick church building in Valparaiso; they have thirty-nine members; no resident pastor; Father Long, George Pearce, John Pearce and Jacob Lantz are the leading men of the church.
CHAPTER XII.
Catholic.
The Catholic Church at Valparaiso, known as St. Paul's Church, was completed in 1863; cost $2,500; membership at that time, 800. The present building cost about $3,500; built by Rev. M. O Reilly; corner-stone laid by Bishop Dwinger, September 28th, 1874; approximate number of members at present time, 500; number of baptisms per annum, about 75; number of communicants from Easter Sunday, 1874, to Easter Sunday, 1875, was 4848; number of pupils in Catholic school, 283; value of property -- total, $25,000. St. Paul's Temperance Society numbers 75 members; Ladies' Sodality, 140; Young Men's Sodality, 45; St. Paul's Convent Band, 15; Columbian Society, 25; number of teachers, 6; expenses per annum for teachers, $2,000; M. O. Reilly, priest for St. Paul's Church. St. Patrick's Church at Chesterton, a brick building, cost about $6,000. M. Lang, priest.
CHAPTER XIII.
OF those who own large tracts of land in this county the Leonard Brothers are the most prominent, as they have altogether about 4000 acres; they also own large tracts of land in Lake and Jasper counties of this State, and some in Illinois.

Josephus Wolf of Twenty-mile Prairie owns more land in this county than any one man in it. He owns between 3000 and 4000 acres, principally in Portage township.

John Shultz of Morgan Prairie owns about 2000 acres of land in this county, and what he lacks in acres he makes up in the quality of his land. Mr. Shultz is probably the wealthiest man in this county. C. E. DeWolf of Michigan City, who has been spoken of as one of our earliest settlers, and who was at one time our County Agent, and at various other times filled honorable official positions, and who was one of the first merchants of Valaparaiso, but has eventually moved into LaPorte county, and now owns a large dry goods store at Michigan City, was at one time the proprietor of large tracts of land in this county, but has been selling off until he now owns but about 1200 acres, principally in Essex township.
The Ice Storm.
During the month of January, 1871, commencing on the 14th day, and continuing for two weeks, was witnessed one of the most remarkable of icy times on record. In place of snow we had rain that turned to ice as soon as it touched anything belonging to this mundane sphere. Every tree and shrub in this county, was bent to the ground with an icy burthen, and although exquisitely grand, and presenting a scene that will never be forgotten by those who beheld it, yet it did immense damage in some localities, especially to young timber. Once or twice during these two weeks, the sun shone on trees, houses and fields, that were coated with ice like an Artic Scene; the colors of the rainbow were everywhere visible, and danced and scintillated in the rays of sunlight like the gems of Golconda. In many places the roads were rendered impassable by an icy blockade, and the falling of the crystal masses from the boughs of trees which snapped from their icy burden, sounded like the report of musketry.
Royal White.
In November, 1872, while Royal White, of Lake county, and his brother-in-law, McColly, were at the Cascade Mills, an accident befell Mr. White that cost him his life. While they were waiting for their grist to be ground, they passed away the time in hunting ducks on the mill pond. After an absence of an hour or two they returned and deposited their guns in the wagon, after which they hitched their team up, and as Mr. McColly was preparing to drive, Mr. White reached into the wagon box and took his gun by the muzzle, and in pulling it toward him one of the hammers caught on a sack, and the old story of accidental shooting was repeated. The barrel was heavily loaded with duck shot, and the entire charge passed through the side board of the wagon box into his right breast. Mr. McColly ran into the mill and notified the writer, who closed the mill and went to the scene of the accident. The wounded man was on his knees in a pool of his own blood, with both hands pressed to the gaping wound, but he arose and walked up to the house of David Hardesty. Dr. Vincent, of Deep River was called -- eventually Dr. Pratt, of Crown Point, but he was beyond the reach of medical skill. The only wonder was that he survived the wound at all; splinters of the wagon box, two inches long, and portions of the gun-wadding, were taken from his lungs a few hours before his death. He died about three weeks after receiving the wound. His constitution a more than ordinarily strong one had protracted his life for that length of time. His remains were buried in the Crown Point cemetery.
The Crusaders.
"Wine is a mocker, strong drink is raging, and whoso is made drunk thereby is not wise," said the prophet more than three thousand years ago, and the remark applies to the strong drink of to-day, as well as the strong drink of the ancients. Some men love the bottle "as the little bird does the tree, and the dew-drop the rose," and the results of that love are witnessed every day. Some writer has said, "that whisky is good enough in its place, but its place is in hell." There is spent in the United States alone the sum of $600,000,000 annually for liquor, and only $200,000,000 for flour. In other words, the people of the United States spend just three times as much money for liquor as they do for bread. They also squander $250,000,000 for tobacco, at least so says Dr. Edward Young.

The temperance people of Ohio, under the leadership of Dr. Dio Lewis, in the year 1873, began to kneel in prayer before the different saloons of the Buckeye State. They were called crusaders. Their example flowed like a tidal wave over the rest of the northern states and reached Valparaiso in the winter of 1873-4. Mrs. Gurney and Mrs. Skinner, with other ladies, headed the movement, and the sight of ten or fifteen women, the elite of the city, bowed in prayer before the saloons of Thomas Ward and Conrad Brown, and being relieved every hour or two by the same number of their christian sisters, presented a sight that was almost awe inspiring in its nature. For weeks, through snow, and storm, and sleet, was this devoted band found at their post, and whether they did any good or not, is without the province of the writer to judge.
CHAPTER XIV.
The Rebellion.
At 20 minutes past 4 o'clock, on the morning of the 12th day of April, 1861, treason's hands fired the first shot against the granite walls of Fort Sumpter, and thus opened the great civil war in the United States of America. It was soon known that Fort Sumpter had surrendered to the rebels, and on the 19th day of April, the blood of patriots crimsoned the streets of Baltimore. The tocsin of war had sounded, and all over the North, thousands of men left the furrow, the workshop and the counter for the tented field.

Porter county showed her loyalty, shouldered the musket and unsheathed the sabre for the defense of the Union. Her soldiers went among the first and remained "until the last red blade was broken, and the last arrow in the quiver."

The record of the Indiana soldiers for discipline, indomitable courage and patriotism, is the just pride of every citizen of the State, and has received the applause of this nation and the world. The memories of the struggles made and the sacrifices endured are yet fresh in the minds of this generation, and the pulses of many a comrade yet quickens when around the peaceful fireside of home he rehearses the story of many a weary march, and fights again the bloody battle that left many a comrade dead on the field, whose life-blood ebbed away from the effects of a bullet, bayonet, or sabre stroke, received from treason's hands; and many of those whose lives were spared live among us to-day, maimed and crippled, and will carry the effects of their wounds and battle scars to their grave.

Indiana furnished 208,365 soldiers during the rebellion, divided into 175,776 infantry, 21,605 cavalry, and 10,986 artillery. Indiana soldiers participated in 308 battles throughout 17 different states.
Killed and Died by Disease.
Commissioned Officers . . . . . . . . . . . . . . . . . . . . . . 652
Non-commissioned officers and enrolled men . . . . . . 23,764
Total . . . . . . . . . . . . . . . . . . . . . . . . . . . . . . . . . 24,416
Deserters.
Officers . . . . . . . . . . . . . . . . . . . . . . . . . . . . . . . . . 12
Enlisted men . . . . . . . . . . . . . . . . . . . . . . . . . . . . . 10,833
Total . . . . . . . . . . . . . . . . . . . . . . . . . . . . . . . . . 10,846

Officers and enlisted men accounted for . . . . . . . . . 194,588
Non-commissioned officers and enlisted men un-
accounted for . . . . . . . . . . . . . . . . . . . . . . . . . 13,777
Grand total . . . . . . . . . . . . . . . . . . . . . . . . . . . 208,365
Expenditure.
During the rebellion Indiana paid money as follows:
For Bounty . . . . . . . . . . . . . . . . . . . . . . . . $15,492,876.04
For Relief . . . . . . . . . . . . . . . . . . . . . . . . . 4,566,898.06
Miscellaneous . . . . . . . . . . . . . . . . . . . . . . 198,866.58
Grand total . . . . . . . . . . . . . . . . . . . . . . $20,258,640.68
Porter County
Paid during the rebellion, as follows:
For Bounty . . . . . . . . . . . . . . . . . . . . . . . . $65,227.50
For Relief . . . . . . . . . . . . . . . . . . . . . . . . . 54,606.33
Total . . . . . . . . . . . . . . . . . . . . . . . . . . $119,833.83

The exact number of men that Porter county furnished as soldiers during the rebellion will probably never be known, for many of our citizens went to Chicago and other places to enlist -- the 9th Ill. Cavalry was especially well represented by men from our county. Altogether, Porter county furnished between twelve and thirteen hundred soldiers. We have authenticated reports of 57 men in the 5th cavalry, (90th) regiment, 110 in the 7th cavalry (119th regiment), 16 in the 12th, (127th) regiment. Total cavalry, 183. 135 in the 9th regiment of Infantry, 14 in the 17th, 137 in the 20th, 3 in the 23rd, 13 in the 29th, 21 in the 35th, 3 in the 59th, 52 in the 63rd, 185 in the 73rd, 47 in the 95th, 88 in the 128th, 56 in the 138th, 10 in the 142nd, 151 in the 102nd regiment. Total Infantry, 829. 3 in the 13th Battery and 10 in the 20th Battery. Total Artillery, 13. Total number of soldiers (with 3 in other regiments), 1025.

The foregoing is exclusive of the three months service. Porter county was among the first to respond when called on for three months troops. Company "H" of the 9th Infantry was raised in Porter county. Robert A. Cameron, Captain, and Isaac C. B. Suman, 1st Lieutenant, and Gilbert A. Pierce 2nd lieutenant. Robert Cameron re-entered the service at the expiration of the three months as Lieut. Col. of the 19th regiment -- was transferred to the 34th, from where he was promoted Brigadier General, U. S. V., in August, 1863. Lieut. Isaac C. B. Suman, who, at the expiration of the three months, re-entered the service as Captain of Company "H," 9th Infantry, three years service -- was promoted Lieut. Col. August, 1862, and was mustered out as the Col. of the regiment, September 28th, 1865. Lieut. Gil Pierce entered the service at the expiration of his three months, and was mustered out as Col. of the -------- regiment volunteers. Col. Pierce is now on the staff of the Inter-Ocean.
5th Cavalry.
Among the commissioned officers of this regiment, Porter County was represented by A. C. Fosdick, of Liberty, as Surgeon, who resigned October 5th, 1873. Arthur M. Buell, of Valparaiso, was 1st Lieutenant, resigned October 18, 1862.

This regiment participated in 22 battles and skirmishes, marched twenty-four hundred miles, and was transported one thousand miles by water. It captured six hundred and forty-nine prisoners; one hundred and fifteen of its own number died in rebel prison. Among its principal battles were Zollicoffer, Blountsville, and Henderson's Mill.
7th Cavalry.
The commissioned officers of this regiment from Porter county, were Maj. John C. Febles, of Valparaiso, who commissioned October 1863, and resigned February 28th, 1865. Quarter-Master Aaron L. Jones, commissioned July 1864, mustered out February 8, 1866. Capt. Company A. John R. Parmalee, of Valparaiso, commissioned October 1863, mustered out as supernumerary on consolidation. 2nd Lieut. Henry S. Stoddard, of Wheeler, promoted 1st Lieut. and resigned November 25, 1863.

This regiment was complimented for its valor during the battle of Okalona, Mississippi, by Generals A. J. Smith and Grierson. This regiment participated in numerous skirmishes; was in the battles of Guntown, Vernon and Egypt Station.
9th Infantry.
Better known as the "bloody 9th," Col. I. C. B. Suman, mustered out with the regiment August 1865; Adjutant Wm. H. Benny resigned November 1862; Stephen P. Hodsden promoted Captain company H, mustered out with the regiment; Chaplain Harry Smith resigned July 1864; Assistant Surgeon Max. Hoffman; 1st Lieut. Joseph W. Harden promoted Captain; Reuben Platt dishonorably dismissed; Capt. John K. Blackstone promoted Assistant Surgeon; George W. Bloomfield 1st Lieut. Capt. DeWitt C. Hodsden died July 27, 1864, of wounds received in action. 1st Lieut. Robert F. Drulinger mustered out January 1865; 1st Lieut. Wm. Turner, 2nd Lieut. John W. Brown.

During the time that the 9th regiment was in service, it participated in 23 battles, of which Shiloh, Stone River, Chicamauga, Lookout Mountain, Mission Ridge and Atlanta are famous.
20th Infantry.
This county was represented in the 20th regiment by Erasmus C. Galbreath, who was mustered out on consolidation, October, 1864, as Major. Capt. James M. Lytle died of wounds August 19, 1862. Lorenzo D. Corey, mustered out as 1st Lieut., Wm. D. Carr, dismissed, March, 1863, and Wm. W. Stevens mustered out as 1st Lieut.

This regiment saw some of the hardest service of any in the field; was at the second battle of Bull-Run, Coal Harbor, Fredericksburg, Gettysburg, Malvern Hill, Petersburg, Wilderness, and ten other engagements, also many skirmishes.
29th Infantry.
Surgeon John F. McCarthy; Assistant Surgeon, Levi A. Cass; 1st Lieut. Samuel E. Wetzel promoted Captain; 2nd Lieut. Anson Goodwin, resigned January 1862.
63rd Infantry.
Capt. Henry O. Skinner mustered out with the regiment.
73rd Infantry.
Lieut. Col. Robert W. Graham resigned March 1863; Capt. Rollin M. Pratt promoted Lieut. Col.; Chaplain Emanuel M. Williamson dismissed by the president, February 1864; Capt. Wm. C. Eaton mustered out with regiment; 2nd Lieut. A. H. Booher, 2nd Lieut. Charles S. Arnold.

This regiment was complimented by General Rosecrans, in person, for its gallant conduct in the battle of Stone River. This regiment was in many battles and skirmishes, and saw hard service.
99th Infantry.
This regiment figured prominently in the siege of Vicksburg, at the battle of Mission Ridge, Chattanooga, Resacca and Atlanta. Capt. Jacob Brewer resigned August 1863; 1st Lieut. Fred D. Drawns resigned January 1865; 2nd Lieut. Wm. Harmon, resigned March 1864.
128th Infantry.
Quarter-Master, Wm. H. Calkins, promoted Major in 12th Cavalry; Surgeon Max. F. A. Hoffman, Capt. Benjamin Sheffield, 1st Lieut. John E. Cass, resigned March 1865; 2nd Lieut. John FitzWilliams, discharged as 1st Sergeant.
138th Infantry.
Capt. Thomas G. Lytle, mustered out with the regiment; 1st Lieut Horace A. Goodwin, mustered out with the regiment.
Transcribed by Steven R. Shook, January 2009