Sunset Hill Farm
Cemetery, Liberty Township
Index of Sunset Hill Farm Cemetery burials . . . .
The Sunset Hill Farm Cemetery is located in the northwest quarter of Section 25 of Township 36 North, Range 6 West, in Liberty Township. Robert Heffron Murray is the only known burial on the farm. The biography of Robert H. Murray below has been taken from a memorial plaque located at Sunset Hill Farm County Park:
Colonel Robert H. Murray
On October 18, 1881, Robert Heffron Murray was born to George and Cora Murray in Chicago, Illinois. He was of Scottish ancestry and very proud of that heritage. Robert had one sister, Louise. Growing up in Chicago it only seemed right that Robert would attend the University of Chicago. He graduated in 1904 with a degree in chemistry.

In 1905, he took a position with the Paramount Knitting Company in Waupun, Wisconsin. He was soon transferred to Virginia to oversee operations at their cotton-spinning mill. After another transfer took him to Illinois, the Kankakee area, Robert resigned his position with Paramount in 1910.

Also, in 1905, Robert married Sue Horton, a young lady whose father, Horace E. Horton, was co-founder of the Chicago Bridge and Iron Company. Robert accepted a position with this company after his Paramount resignation. He was soon sent to Greenville, Pennsylvania to supervise operations there.

In 1917, Robert joined the United States Army, as a Captain in the Army Reserves. He was elevated to Major when ordered to report for deployment to Europe during World War I. Upon return from active duty in Europe, he was once more promoted this time to Lieutenant Colonel having earned the title, Colonel Murray.

In 1926 Col. Murray returned again to the knitting business this time as founder of the Neumode Hosiery Company. Colonel Murray remained the president of the corporation until his death.

In 1934, Col. Murray began farming at Sunset Hill. The farm was an operating dairy farm until 1978. Colonel Murray was kind to all of his patrons, erasing all balances at the holidays.

October of 1972 Colonel Robert H. Murray passed away. His legacy was to leave his land to Purdue University. Purdue did not have a need for the property. His second wish was for the property to then be developed into a park for the citizens of Porter County.

THANK YOU COLONEL MURRAY
NOTE: If you have information that you like to add to this database, including corrections, then please contribute it to Steve Shook.

MURRAY, Robert Heffron
Birth: October 18, 1881
Death: October 28, 1972
Note: Lieutenant Colonel, United States Army, WWI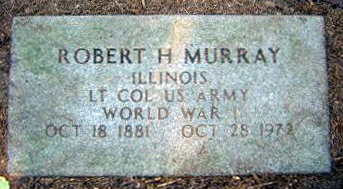 Sunset Hill Farm Cemetery data prepared by Steven R. Shook