Sedley
Cemetery, Union Township
Index of Sedley Cemetery burials . . . .
The Sedley Cemetery is no longer active. The cemetery is located between Sedley Road and 375 West, south of the railroad tracks and behind a farm in Union Township. According to county records, Alanthus Curtis' son, Seth Curtis, deeded a half-acre of land in the northeast corner of the southeast corner of Section 18 for use as a cemetery. A small private cemetery, there have been no burials here in many decades, and the overgrowth at the site makes it difficult to find any indications of burials or tombstones.

Florence Peters, of the Northwest Indiana Genealogical Society, visited the Sedley Cemetery site on November 10, 1993, and at that time she could only find one tombstone. It is unknown how many burials are in the Sedley Cemetery.

Thanks to Tom Wiater, of Union Township, Porter County, Indiana, for providing information regarding the Sedley Cemetery, as well as the photographs below.

NOTE: If you have information that you like to add to this database, including corrections, then please contribute it to Steve Shook.

CURTIS, Alanthus
Birth: April 11, 1791
Death: October 25, 1857
Notes: Aged 66 y, 6 m, 14 d

CURTIS, Eliphalet David
Born: August 2, 1781
Death: April 5, 1865
Notes: Eliphalet David Curtis was born on August 2, 1781, in Brookfield, Fairfield County, Connecticut, the son of Ephraim and Rachel (Bishop) Curtiss. Eliphalet
served as a private in the 1st Regiment of the New York Militia during the
War of 1812. Curtis emigrated to Porter County in 1838 and settled near
Porter Cross-Roads, where he died on April 5, 1865.

WILCEY, Caroline
Birth: September 30, 1816
Death: April 8, 1848
Notes: Wife of John. Tombstone was broken but has been repaired. Aged 31 y, 6 m, 8 d. Alternative spelling of Caroline's surname include Walsey and Wilsey.
Tombstone of Alanthus Curtis
Photograph courtesy of Tom Wiater, September 2009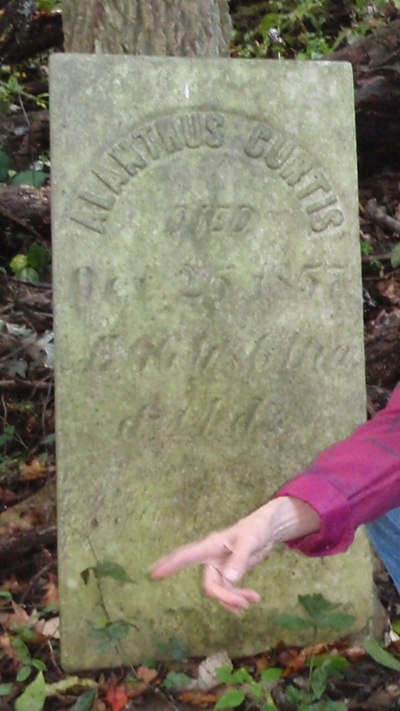 Tombstone of Caroline Wilcey
Photograph courtesy of Tom Wiater, September 2009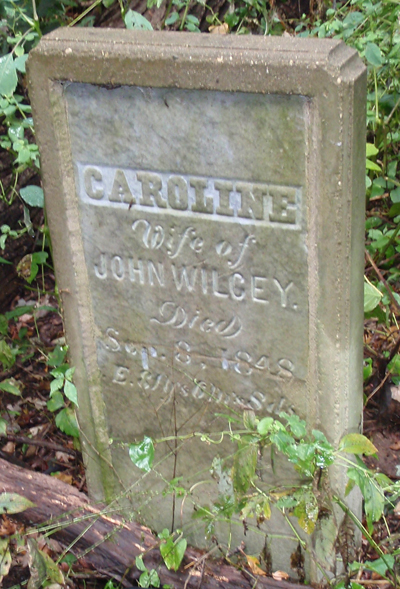 Sedley Cemetery data prepared by Steven R. Shook